New York City, NY --
For any vehicular nameplate to survive and flourish over a period of 25 years means something. While the MX-5 hasn't yet reached iconic levels of continued production, like the Mustang or Beetle, 25 years is still a feat for a niche roadster. And if I were a betting man, I'd put my money on it easily surviving another 25 years.
As I sat with Bob Hall, one of the original fathers of the Miata, and Ken Saward, who was instrumental in the second-generation car, I could see their love not just for cars, but this car. It takes a village to raise a child, as they say, and these two fine gentlemen, along with many others, home-schooled the MX-5 over its first two generations.

Photo: Mazda
First-generation NA: Resurrecting a once-popular formula
Bob Hall's vision of a British roadster with Japanese reliability is what brought him to the attention of Mazda R&D, eventually landing him a gig with the zoom-zoom automaker.
Simple, fun, and lightweight, the NA generation Mazda Miata was born and the awaiting public ate up its drop-top cuteness after it debuted at the Chicago Auto Show in 1989.
Equipped with a free-revving 1.6L 4-cylinder engine, the Miata was a race car people could afford. And that they did -- race it, that is.
Later, for the 1994 model year, Mazda would supplant the engine with a 1.8L unit, increasing output to 130 bhp, all in a package weighing less than 1,000 kg.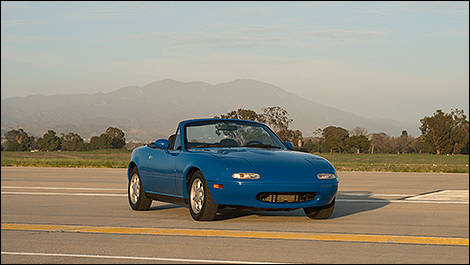 Photo: Mazda
Second-generation NB: Improving a future icon
As the car moved into its second-generation body style, big changes were made.
The heavy and complicated pop-up headlamps were gone -- something Hall never wanted to begin with -- replaced by oval eyes at the front of the roadster.
Other design elements, such as the curvature of the doors, were changed to provide a flowing design. Ken Saward, who worked on the second-generation car, explained Japanese executives originally wanted to keep the same doors as the first-generation car due to cost. However, when the prototype was put together with versions of both door shapes, it was an easy decision.
A 1.8L engine continued to power the MX-5, though power was increased to 140 bhp. It was needed, as the Miata also ended up lugging around an extra 100 kg of heft after all was said and done.
The second-generation also saw the first and only turbocharged Mazdaspeed MX-5 to ever legally hit the roads, putting 180 bhp to the pavement. It was also the only generation to get a fixed hardtop version, the Miata M Coupe, though it was relegated to being a concept only.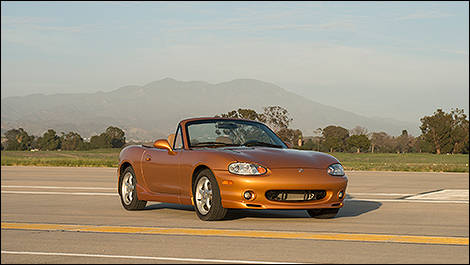 Photo: Mazda

Third-generation NC: Japan takes a crack at it
While the previous two generations were mainly designed in the United States, Mazda tapped a Japanese design team for the third-generation.
Again, thanks to regulations and changing consumer tastes, the NC Miata added another 100 kg of mass overall. It was also the first MX-5 to get a power-retractable hardtop roof.
In Europe, a new 1.8L was developed, producing 126 bhp and 123 lb-ft of torque. But, North American tastes demanded more power, and we received a 2.0L MZR 4-cylinder engine developing 170 bhp and 140 lb-ft of torque that still retained a free-revving nature.
The third-generation vehicle also brought about the smiling-face front fascia you either love or loathe.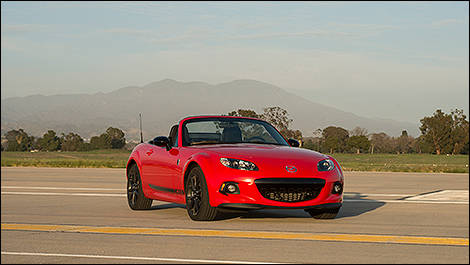 Photo: Mazda
Fourth-generation ND: The future is as bright as a summer SKY
Mazda's next attempt will be the first truly global MX-5, with teams on both sides of the Pacific involved in its development. Even engineers at Fiat in Italy will get a vote due to a future twin supplied to them from the Japanese automaker.
The fourth-generation will also mark the first time the Miata will
lose
overall mass, as Mazda plans to shave close to 100 kg from the car. A more efficient powertrain will also make a home under the hood as Mazda looks to cash in on their SKYACTIV technology investments.
While the MX-5 has always retained some level of cuteness throughout its prior three generations, expect that to change going into generation four. Looking at the rest of Mazda's range of KODO-designed production and concept vehicles, it's not hard to imagine how the next MX-5 will look. Aggressive is one way to put it.
One thing is for certain: Mazda's obsession, and that of its fans, will drive the MX-5 into the future. The smiling MX-5 face may disappear, but the smiles of those driving it will remain for many years to come.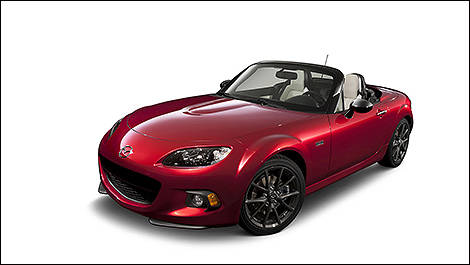 Photo: Mazda