How can you make the most of your sports car? Well, there are several clubs and organizations that bring enthusiasts together and allow them to improve their driving skills -- all on a closed track and at a reasonable cost.
Auto123.com recently entered the realm of the Porsche Club of America, more specifically in the Rennsport region which includes Quebec and Southeastern Ontario. We visited the legendary Circuit Mont-Tremblant and tracked down one of our employees, Frederic Feudi, as he experienced his first-ever track day. Being
the proud owner of a 2007 Porsche Cayman
, he wanted to explore the limits of his new sports car.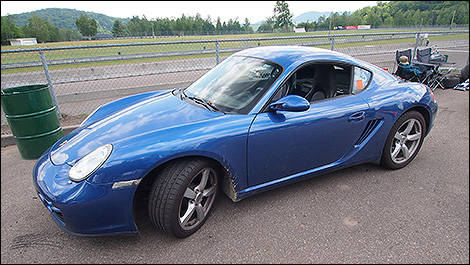 Photo: Frédéric Feudi
Rennsport trains Porsche novices by pairing them up with seasoned driving instructors. They learn, among other things, how to minimize weight transfers, where to look, how to brake, and even what driving position to adopt behind the wheel.
These techniques prove very useful not only on the track but also in everyday driving. If every road user received this type of training, you can bet that the number of accidents would drop significantly. Rennsport is not a racing club but rather a performance driving school.
Participants are so exhausted and have had such a big dose of speed after a full day on the track that they don't even consider defying the posted limits when they get back on the road.
With daily fees of about $500 (including registration, gas, and tires), enjoying the experience of the Porsche Club of America is a lot cheaper than a ticket for excessive speeding. Plus, you'll benefit from a safe environment to sharpen your reflexes and hone your skills from early in the morning to right around dinner time.
Porsche owners would be fools not to go there!