Being a good driver on rural streets is one thing, being a "good" driver on the track, at the helm of a vehicle with well over 500 horsepower is a whole other thing -- and something I think more drivers should learn how to do.
There's so much more to track driving than just going fast and cutting corners, and I learned just that at my recent involvement in the
Mercedes-Benz Driving Academy
at Circuit Mont-Tremblant, one of the best tracks in North America. I recently participated in their Mastering Performance driving school and got behind the wheel of 12 Mercedes-Benz models from the
B 250
to the knee-weakening
SLS AMG GT Coupe
.
You'll have to check back for my full driving impressions on the SLS AMG (and trust me, you won't want to miss those), but here's the deal: Techniques used to harness the power and precision of the SLS are just as applicable to the
B Class
, if not more and can be applied to your everyday commute to work too.
There's more to proper driving than good seating position and looking past the hood of your own vehicle (something we all "know" inherently to do… at least I hope).
From loosening your grip on the wheel (a death grip is often associated with precise handling and steering abilities, when really it's the opposite) to actually turning your head to look at where you're going (instead of just tilting or swiveling your eyeballs), little tweaks like that can make you a much better driver.
Ever thought about how the weight of your vehicle can affect braking and handling abilities? Well, at speed this can have more of an influence;, however, abruptly braking then trying to turn is asking a lot of any vehicle -- even more so in one as large as the
GL Class
, or say the Santa Fe parked in your driveway…
While the Mastering Performance program is the top of the driving academy pack, they also offer a Winter Driving Academy as well as a Driving Experience course, both of which include introductory lessons to track driving and advanced driving techniques. Offered at a number of venues across Canada, a program like this one is something I believe every driver should one day experience.
Forget doing 200 clicks down the straightaway, the most valuable lesson I learned was to drive with my eyes. In general, drivers "drive" with their hands. I noticed that as soon as I looked to an apex my hands followed, even if that wasn't the correct line to take. It took a few shots for me to train my hands to function separately from my eyes. And once they did, my eyes became an invaluable part of my driving ability, and my rather perfect driving line (if I do say so myself).
Not just entertaining, these driving programs are designed to make the participants better drivers in the end, and I think they achieve that on a deeper level than solely remembering seat and mirror placement. Programs like the Mercedes-Benz Driving Academy are also designed to build confidence behind the wheel, and they do.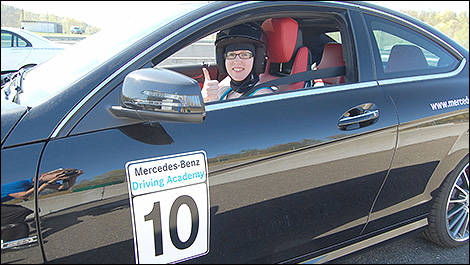 Photo: Mercedes-Benz