I consider myself very lucky. Not only because I'm doing the job I've dreamt of before I sported pimples, but because right now, I have the opportunity to drive both mega-horse, combustion-engined sports and luxury cars as well as environmentally-friendly EVs. And I love both. But these two might not coexist for long.
Between these two extremes, you have the resurgence of turbochargers that are allowing 4- and 6-cylinder engines to gain respect among performance enthusiasts. Current engine downsizing results in more horsepower and better fuel economy, and we could start speculating that 10 years from now, V8 engines will no longer be available in cars under, say, $75,000.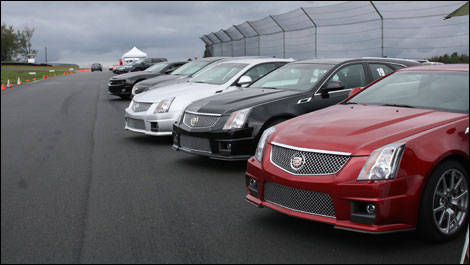 2011 Cadillac CTS-V (Photo: Michel Deslauriers/Auto123.com)
Looking at the crop of models that showed up at the IMPA Test Days this week, this speculation may seem exaggerated. But it could happen, as manufacturers are pressured by the government to drastically improve the fuel economy average of their product line-up. I think we'll all agree that a turbo V6 can deliver V8-grade power and lower fuel consumption, but it can't match that spine-tingling, adrenaline-pumping sound and thrill a good V8 does.
In addition, some V8s are not that bad on fuel as we might think. Me and my colleague Matt returned from our trip to Test Days in Monticello, New York aboard a Chrysler 300C AWD. Our average fuel economy was just 9.9 L/100km; not bad for a loaded, all-wheel drive, 363-hp sedan that rarely drifted into the slow lane.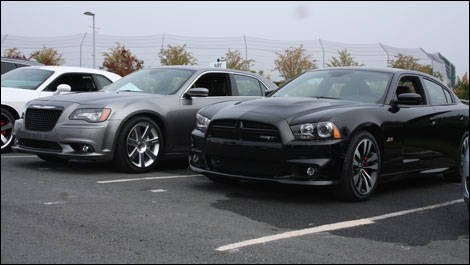 2012 Dodge Charger SRT8 and 2012 Chrysler 300 SRT8 (Photo: Michel Deslauriers/Auto123.com)
So, maybe now's the time to get that V8-powered car you always wanted.
We wouldn't want to spend too much on a car with a V8 engine, though. However, there are many models to choose from that won't break the bank.
V8-powered cars under $40,000
Chevrolet Camaro 1SS: $37,195
Chrysler 300C: $39,995
Dodge Challenger R/T: $36,695
Dodge Charger R/T: $37,995
Ford Mustang GT Coupe: $38,699
V8-powered cars under $50,000
Chevrolet Camaro 1SS Convertible: $43,255
Chrysler 300 SRT8: $48,995
Dodge Challenger SRT8 392: $48,995
Dodge Charger SRT8: $47,995
Ford Mustang Boss 302: $48,199
Ford Mustang GT Convertible: $42,999
Of course, as you drive around in one of these beauties, you might get that hateful stare from environmentalists who'll consider you as a polluter. But one thing's for sure; in the back of their heads, they'll probably be thinking: "Damn, I wish I had a V8."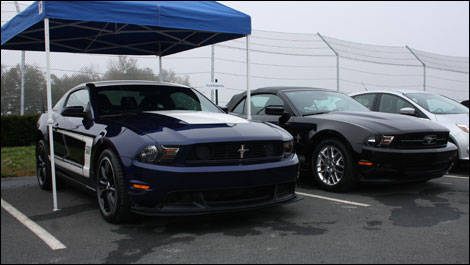 2012 Ford Mustang Boss 302 (Photo: Michel Deslauriers/Auto123.com)