So, I've been spending some time on used car sites and daydreaming when the boss isn't around. Mainly, I'm looking for my dream car: a 1997 Dodge Viper GTS Coupe. But in the process, I'm also finding many alternatives to that dream car are getting more and more affordable, too.
It's delightful when machinery that made your teenage self drool wind up in used car territory and become considerably more attainable. Here's a look at some models many a gearhead will have found attractive as a kid, and will find attractively priced now.
1997 Dodge Viper GTS:
This machine's got an 8L V10, 450-hp and no B.S.. Plus, it's mean as all heck and could hand many a Ferrari from its era their own derriere on a plate. Many Vipers in the used market have upgraded intakes, exhausts and wheels, too. Pricing seems to range from $40,000 to $50,000—though I'm sure you could get a motivated seller down by a few grand with cold hard cash.
2001 Jaguar XKR:
Not only does this British pussycat pack a supercharged engine with the better part of 400 hp driving the rear wheels, its comfortable, usable, and classier than Pierce Brosnan. You can even get a convertible. Many Jaguar XKR owners say their machines are like rolling pieces of art—when they're not sipping cognac and enjoying the finer things in life. You could probably pick one of these babies up for about $20,000, and it still looks like five times that much.
1986 Porsche 911:
Ah, dirty old Porsches. They're unique. They're charming. They have air-cooled flat-sixes that get hot enough to melt rocks on the intake manifold. The Turbo model lagged worse than a Commodore 64 playing Doom 3D. And you can pick one up for about $23,000 – depending on the trim level and mileage. If you're interested in owning one of the most envied, instantly-recognizable sports cars in history, this is a great way to do it.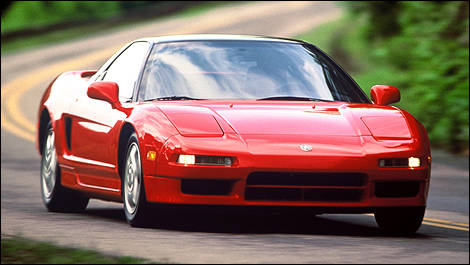 1993 Acura NSX (Photo: Acura)
1993 Acura NSX:
The NSX wasn't a car anyone bought to be the fastest supercar on their block. It was a car bought because it was cool looking as all hell. And had a gorgeous V6 bolted to the middle. And looked like a Ferrari. And handled like a fighter jet. Ferraris from this era are still priced like real estate. But you can get an Acura NSX for about $30,000. The local Civic Hatch tuner crowd will be envious of your VTEC, too.
2000 BMW M5:
Sometimes, accidental creation of offspring gets in the way of owning that sexy two-door dream car. That's why there's the BMW M5. It's got four doors, room for the kiddies, and packs a 5.0L, 400-hp V8. Best of all, it's got three pedals and drives the rear wheels. Fans say it's the best sports sedan on the planet. Most owners agree. Pick one up for less than $20,000.
1993 Chevrolet Corvette ZR-1:
If you haven't cut the back of your hair since hanging the poster on your wall back in the nineties, you might be interested in the 1993 Corvette ZR-1. Look for an all-aluminum 405-hp V8, rear-wheel drive and all that American-styled Corvette goodness. Pricing ranges from about $20,000 to $30,000—chrome Canadian Tire add-ons not included.