As reported by Aston Martin


Gaydon
- In response to unprecedented customer demand,
Aston Martin
has confirmed that the V12 Vantage - the most potent production sports car in the marque's 96-year history - will be made available in North and South America from later this year.
Based on the hugely successful
V8 Vantage
, the V12 Vantage features a 6.0 litre V12 engine producing 510 bhp (380 kW / 517 PS), and 420 lb ft (570 Nm) of torque with a top speed of 190 mph (305 km/h) and a 0-62 mph (0-100 km/h) time of 4.2 seconds.
Originally launched in 2009, the V12 Vantage has quickly established itself as a firm favourite with enthusiasts and media observers alike, winning a series of accolades and praise around the world and proving a huge sales success for the British marque.
Aston Martin Chief Executive Officer, Dr Ulrich Bez said: "This is the ultimate performance interpretation of the Vantage range, combining our most agile model with our most powerful engine. It represents the definitive Aston Martin driving experience; providing spectacular performance to ensure a dynamically thrilling drive in a highly exclusive package."
Although the originally small anticipated level of demand from the Americas meant that the car would not be homologated for the market, unprecedented demand from customers prompted an engineering study into potential feasibility; with the strict brief that any changes could not impact on the overall design of the car. Now just six months later, a series of engineering refinements have been introduced to satisfy the specific requirements of the American market.
Benefiting from the modular nature of the VH architecture, the Aston Martin engineering team were able to review the virtual and physical testing data for all modern era Aston Martins. Following this study a detailed Computer Aided Engineering (CAE) analysis resulted in the development of an alternative load transfer path, incorporating an innovative version of the structure at the front of the car, which now satisfies North and South American requirements.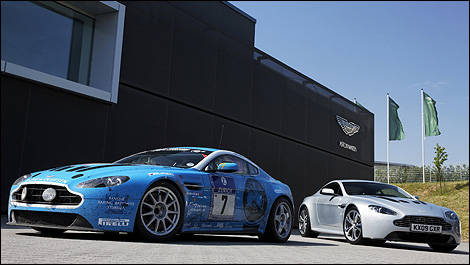 Photo: Aston Martin