RS6 Reigned Supreme until Mercedes-Benz and BMW Raised their Game
After just two and a half years and 8,081 units, Audi has ended production of its RS6 super sedan, the most powerful Audi to ever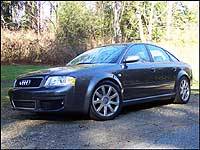 After a two year run, Audi has announced it is ending production of its RS6 super sedan. (Photo: Trevor Hofmann, Canadian Auto Press)
enter production. Developed by quattro GmbH, Audi's tuning firm, with help from motor specialist Cosworth, the RS6 brought an entirely new definition of what a supercar could be to market. It is luxurious and comfortable, while providing mind-warping performance.
Like the RS2 and RS4 before it, the RS6 carried supercar-pummeling power wrapped in a visually inconspicuous cloak. At the time of its introduction, the RS6 played into the same game of stealth as its arch nemesis BMW with its 400 horsepower M5, and Mercedes-Benz's leather-laden E55 AMG. Audi one-upped the competition by offering an unheard of 450 twin-turbocharged horsepower together with the unshakable traction of its Torsen-based permanent all wheel drive system.
With the introduction of the RS6, a host of changes were ushered in. For the first time Audi offered its European clientele an
Audi shook the competition when it unveiled the 450-hp twin-turbocharged all wheel drive super sedan. (Photo: Trevor Hofmann, Canadian Auto Press)
RS car in two body styles, the traditional five-door Avant (wagon) as well as a four-door sedan. Another critical difference between the Porsche-developed RS2 and RS4 of years prior was that the RS6 was based on Audi's larger, plusher midsize chassis as opposed to their more agile and lightweight compact platform. The RS6 would also represent the first time that Audi offered an RS car with an automatic transmission, claiming that the power of the twin-turbo V8 exceeded any transmission the brand had in house. Such seemingly minute details did little to deter enthusiasts, who were eager for the next dose of additive power, traction and performance, automatic or not.