The Audi tron family of technologies brings together innovative ideas and processes for the future of mobility. The
A3 e-tron
promises performance and efficiency, while the
R8 e-tron
makes us dream of serious zero-emission exotic performance.
This time, we move on to g-tron.
Many of us are familiar with compressed natural gas (CNG) if only because we've seen notices on city buses disclosing the fact that it's a "green" bus.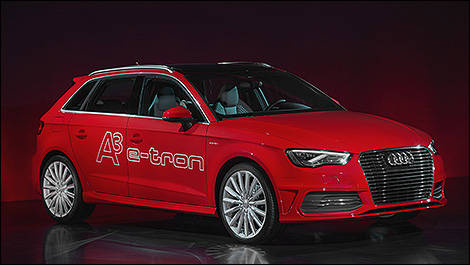 Photo: Audi
Old news: Natural Gas
I've known about CNG for a long while as my uncle, who was a taxi/limo driver from the '60s to the '90s owned and operated a number of cars powered by this natural occurring source of energy later in his career. The main reasons for its use back then were that it was cheap and relatively clean. These points are still true today.
Audi has put forth an incredible effort to take the idea of CNG to a whole other level.
Making gas
In a nutshell, Audi produces its own Natural Gas by using waste gas (CO2 in this case) from a nearby biomethane plant, that reacts with hydrogen to make the gas. The hydrogen is created through electrolysis supported by renewable sources of electricity in an entirely new e-gas plant that Audi built in Werlte (Emsland), in North Western Germany.
The gas that Audi produces at this plant is in fact synthetic methane or as they call it: e-gas. Chemically speaking, it is almost identical to natural-natural gas and therefore can be stored, transported, and distributed through the normal natural gas grid, this case, in Germany.
Of note, the hydrogen produced that is converted into e-gas, can be stored separately and eventually be used to power future fuel-cell vehicles.
Environmental impact ZERO
When considering how the gas is produced, the plant and its product are actually climate-neutral. This means that whatever it takes in (CO2) is completely offset by what it puts out. In fact, it's better than that.
The Werlte plant will produce enough e-gas to power 1,500 new Audi A3 Sportback g-tron vehicles for an average distance cover per car of 15,000 km per year. The banked or absorbed CO2 by the plant is actually sufficient to negate whatever the cars produce over that period of time. In other words, they are not producing more CO2 than was already spewed into the atmosphere.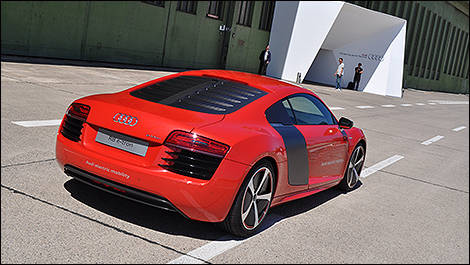 Photo: Mathieu St-Pierre
The Audi A3 Sportback g-tron
The A3 Sportback g-tron is Audi's latest and likely most attainable demonstration of what sustainable mobility can and will look like in the very near future. It is powered by a 1.4L TFSI engine that has been specially modified to run on Audi's aforementioned e-gas.
The TFSI produces a respectable 110 hp and 147.51 lb-ft of torque. This power is sufficient to bring the A3 g-tron to 100 km/h in less than 11 seconds and on to a top speed of 190 km/h. Although the stats seem low by 2013 standards, the A3's low 1,265 kg (2,788.85 lb) weight plays a huge role in these results.
From the outside, the A3 g-tron looks like a commonplace A3 and that's part of the car's appeal. The same applies to the cabin where only a second "gas" gauge hints that this is not a regular A3.
In the past, storage tanks were an issue with CNG powered cars. Audi resolved this problem with ultra-lightweight composite tanks. Each weighs in at 27 kg (59.52 lb) or 70% less than regular steel bottles. They are made from gas-impermeable polyamide matrix, carbon fiber reinforced polymer (CFRP) and glass fiber reinforced polymer (GFRP). They are located under the trunk, where the indent for the spare tire would normally be located and hold seven kg (15.43 lb) of gas.
With full tanks of both gas and gasoline, the Audi A3 g-tron has a range of 1,300 km! On CNG alone, the car can cover up to 400 km. Actual CO2 emissions are 95 g/km.
Driving the A3 Sportback g-tron
I was given the opportunity to drive the A3 g-tron, and happily there isn't much to report on. Our brief drive led us to the Tiergarten in the center of Berlin.
If a little sluggish at first based solely on what Audi has habituated us from its offered powertrains in North America, the g-tron still felt very much at home and capable of tackling downtown Berlin traffic. Power delivery is flat but comes into play somewhere around the 2,500 rpm mark.
Once underway, the A3 g-tron switches seamlessly from one source of energy to another, which is key in the acceptance of alternative sources of motivation. Alternatively, the switch can be done manually.
The initial drive was done in a 6-speed manual gearbox A3, which is brilliant. The optional 'box is an S Tronic automatic.
Although the g-tron tips the scale at roughly 60 kg (132 lb) more than a conventional 1.4L TFSI A3, the ride quality was identical to our regular North American 2.0L TFSI.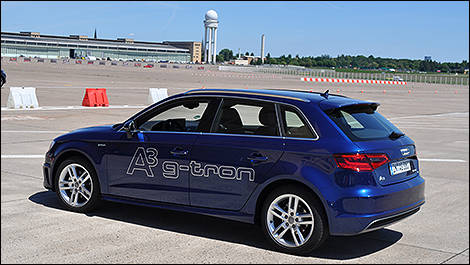 Photo: Mathieu St-Pierre
The implementation
Audi will be rolling out the A3 g-tron in Germany at the end of 2013. The Werlte plant will also become fully functional around the same time.
Audi has thought of everything in this scenario. Customers who want to buy Audi e-gas sign up for a particular contingent of e-gas for the A3 g-tron at the Audi dealer. This decision allows them to participate in an accounting process that keeps track of the amount of Audi e-gas they put in their vehicle at natural gas filling stations. The system works like a pre-paid credit card and helps them realize how much of the sustainable and neutral mobility service they are actually receiving.
For the foreseeable future, the A3 g-tron will only be offered in Germany as they have a well established and organized natural gas distribution network. No word yet if the program will grow into other European countries but the likelihood that it will come to North America is very slim.
One of the main reason for this program is to reduce energy costs to customers. In fact, CNG works out to be cheaper to purchase than diesel fuel. The "trouble" with our markets is that we still have relatively cheap energy costs.