Model:
Audi R8 : Used
Vehicle Type:
Performance Coupe / Convertible
The Verdict Of The Used Audi R8:
Though reliability information is inconclusive, be sure to subject any used R8 you're considering to some standard checks, as well as a few R8-specific ones. Opt for a model with as much of its factory warranty remaining as possible, and don't forget to check the condition of the tires and brakes. This one's a good candidate for an extended warranty to protect against high repair bills down the line.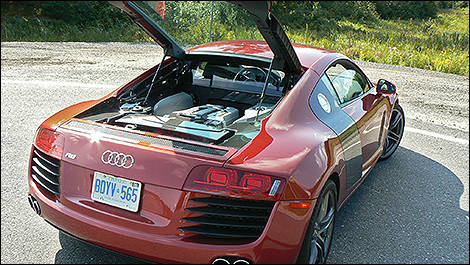 Photo: Justin Pritchard
What Owners Like:
Owners typically love the exclusivity, style, performance and bragging rights that come as part of the Audi R8's package. Ease of entry and exit, and an everyday-comfortable ride are also noted. Fuel mileage on the V8-powered model is said to be good during highway cruising, too.
What Owners Dislike:
Limited cargo storage and a sometimes-fussy MMI interface are among the most common owner complaints with the Audi R8.
History/Description Of A Used Audi R8:
When Audi's mid-engine R8 performance car hit the road in 2009, it put the brand on the bedroom walls of drooling teenage car-buffs around the globe just as quickly as it earned a reputation for being an extreme performance machine with incredible driving dynamics and every-day usability.
All Audi R8 models are 2-seat units with mid-mounted engines fixed just behind the cockpit. All models received Quattro AWD, a 4.2L, 420-horsepower V8 and a 6-speed manual transmission as standard kit. Shoppers could opt for an up-level V10 engine, which bumped displacement to 5.2L and horsepower to 525. An R-Tronic auto-clutch gearbox was available for drivers who didn't wish to shift gears themselves.
Feature content included navigation, a Bang & Olufsen stereo system, Bluetooth, MMI Interface, driver computer, heated leather, and plenty more. A backup camera with distance sensors was available, too.
In the used market, "R8 4.2" indicates a model with the V8 engine, which should be sufficient for most drivers. An "
R8 5.2
" gets the V10. If "R-Tronic" shows up in the seller's description, it indicates that the model has the "automatic" transmission. A convertible or Spyder model was available with either engine.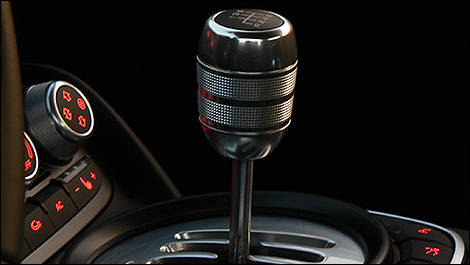 Photo: Justin Pritchard
Common Issues With A Used Audi R8:
Low sales volumes and the low-mileage nature of the R8 mean reliability information is difficult to track down, though several potential issues and general guidelines should be considered by shoppers.
Start your test drive with a full check of the vehicle's tires and brakes. Ensure the seller isn't passing off a set of rubber or brake pads and rotors that are in imminent need of replacement. A tire-tread depth gauge can help. Squealing brakes are a sign of wear, and a mechanical inspection at an Audi dealer can help, too.
When shifting an Audi R8 with manual transmission, ensure the clutch bites hard and works without slippage. Some owners report electronic dialing-back of engine power when shifting quickly if the clutch is slipping, which is intended to increase durability.
Check all interior electronics twice, paying special attention to the MMI system and ensuring it activates, boots up and manipulates its various functions properly. Some owners reported that the system, from time to time, doesn't boot up. Ensure no "check engine" or "service vehicle" notifications are present in the instrument cluster, either.
Finally, inspect the Audi R8's paint for signs of blotchiness, "running" or repainting, which could indicate the model was in an accident.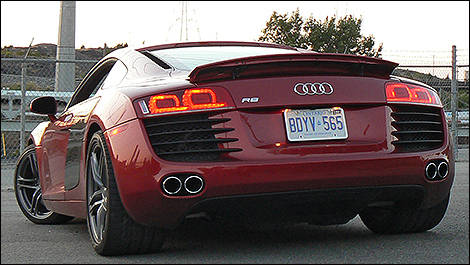 Photo: Justin Pritchard