Twenty years ago, the world of Formula 1 was severely and profoundly affected by the tragic death of its three-time champion, Ayrton Senna, during the San Marino Grand Prix.
On that fateful Sunday morning of May 1st, 1994, fans were barely getting over Rubens Barrichello's major crash with his Jordan on Friday, and Roland Ratzenberger fatally driving his Simtek into a wall on Saturday.
Senna, then racing for Williams-Renault, started the Grand Prix in pole position ahead of Benetton-Ford's Michael Schumacher.
When the green lights came on, JJ Lehto stalled his Benetton and was violently struck by Pedro Lamy's Lotus, which immediately led to an interruption.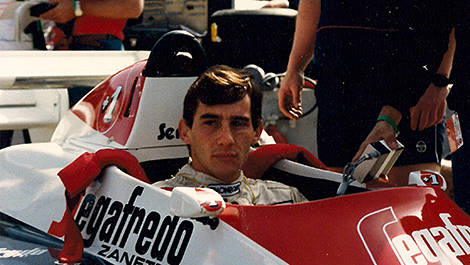 Ayrton Senna, Toleman-Hart, 1984 Canadian Grand Prix (Photo: René Fagnan)
After the race resumed, Senna's car shot straight into the Tamburello wall on the very next lap, despite him hitting the brakes as hard as he could. Part of the front right suspension pierced his yellow helmet and fatally wounded his head.
The quick intervention by emergency personnel and a medical evacuation by helicopter could not save him.
From a driving and racing standpoint, Senna didn't do anything wrong. In spite of an endless investigation by Italian authorities, no one knows for sure what really happened.
Some people claim Senna lost control of his car after hitting a bump on the track. Because of the long race interruption, his tires had lost significant air pressure, which dramatically reduced the ride height of the Williams.
Others say the Brazilian driver was doomed by a faulty steering column, which he had extensively modified before it was welded into place.
Anyway, Formula 1 lost a polarizing figure who was mostly regarded as a gifted driver and courageous competitor.
The world will always remember Ayrton Senna. I know I will. I still carry his infamous double "S" logo on my own racing helmet.
We must not forget that another F1 driver, Roland Ratzenberger, also lost his life during this very sad San Marino Grand Prix...