Austrian Formula 1 driver Roland Ratzenberger embodied the spirit and drive that often define sporting greats. While not blessed with the same natural gifts as Ayrton Senna, Roland will forever be linked to that tragic Imola weekend.
He was that rarest of characters: charismatic, yet humble; shy, yet vivacious; able to climb the ladder without breeding enmity. His was a life dedicated, and ultimately surrendered, to a singular passion - motor racing.
Simtek
His big chance finally arrived in 1994 with the small Simtek team, where he would partner David Brabham.
"We spent some time together early on, training together and also going down to Monaco," recalls Brabham on Formula1.com.
"The thing about Roland was he was immediately easy to get on with - he was a great guy. For me he was the model racer: fit, good looking, and someone who lived life to the full.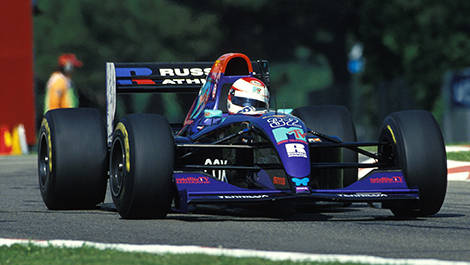 Roland Ratzenberger, Simtek, 1994 San Marino Grand Prix (Photo: WRI2)
"He struggled for money - he always had to find it and raise it by himself. He didn't have a silver plate; it was always a personal battle. That was why he'd gone to Japan, because he could make money. He would go wherever he could to drive. He and I had both raced at Le Mans and were now in F1, which was something fairly unique to us really. Reaching F1 had always been his goal though, and he achieved it."
Ratzenberger failed to qualify for 1994's opening race in Brazil. He missed dry practice due to mechanical issues and was then prevented from setting a competitive time as rain washed out final qualifying. He did, however, make the grid for round two in Japan where he would finish 11th, despite a less than compliant car.
Imola
During qualifying at Imola, Ratzenberger ran wide and off the road at Acque Minerali, apparently damaging the front wing of his Simtek. He opted to stay out, but approaching the flat-out Villeneuve kink on the next lap his wing failed, and he was pitched into the barriers at over 300km/h.
"There are parts of Imola I can't remember, for obvious reasons," Brabham recalls. "Like anything in life, you can't fully understand the experience before you actually go through it. It was devastating; there is no other word. I was numb".
" I'll forever remember his smile. He was a very committed driver, and very honest both on track and off, but it's his smile that is my enduring memory. He was a racer through and through; he lived and loved the sport. I've never once regretted racing that day in tribute to him," Brabham said.
Just one day later, Ayrton Senna's fatal accident would send shockwaves around the world. It later emerged that the Brazilian had been carrying a furled Austrian flag in his cockpit, in planned tribute to Roland Ratzenberger.