BMW today announced that it was ranked first overall in the inaugural L2 Prestige 100 Facebook IQ, a new index that measures the social media aptitude of Prestige 100 brands from auto, beauty, fashion, watches & jewelry and spirits & champagnes categories.
The German automaker currently owns and maintains 54 separate Facebook pages pertaining to its various geographic regions, business segments and products, each of which were assessed for this study.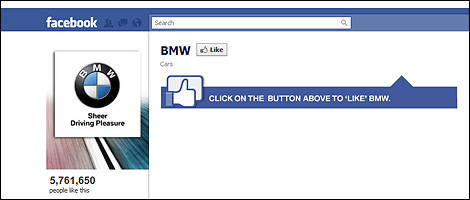 Photo: Facebook
The index evaluates and ranks the Facebook efforts of prestige brands across four criteria: size & growth of the community, engagement, programming, and integration to online platforms.
With an index score of 175, BMW trumps Audi (156), Lexus (154) and Ferrari (141), the three other car companies among the Facebook IQ top 10 brands.
Earlier this year, Auto123.com posted similar rankings of automakers
based on their Twitter influence
. Audi came out on top, followed by Volkswagen and Chevrolet.
The most influential Prestige 100 brands on Facebook according to L2:
1- BMW
2- Clinique
3- Audi
4- Lexus
5- Bare Escentuals
6- Benefit
7- Bobbi Brown
8- Johnnie Walker
9 - Belvedere
10 -Tory Burch and Ferrari (tie)
12- Infiniti
18- Mercedes-Benz
22- Cadillac
38- Porsche
40- Acura
47- Aston Martin
49- Jaguar
52- Land Rover
56- Maserati
79- Rolls-Royce
In case you're wondering, Auto123 was not eligible for the L2 rankings despite our active presence on Twitter (@auto123) and Facebook (Auto123). We'd love to have a chat with you, answer your questions and provide you with up-to-the-minute auto-related content.