In conjunction with the Los Angeles Auto Show, Cadillac took the opportunity to release a brief statement regarding the next new electric model poised to join its lineup: the Optiq SUV.
After the Lyriq and the super luxury Celestiq sedan, it becomes the third electric model in the family. The model will be marketed in China and North America.
"OPTIQ will act as the entry point for Cadillac's EV lineup in North America, slotting in below LYRIQ as a luxury compact SUV. OPTIQ's spirited driving dynamics are designed to appeal to global luxury customers. Additional details, features and pricing will be unveiled next year."

- Cadillac
The EV is thus expected to arrive in the second half of 2024 as a 2025 model.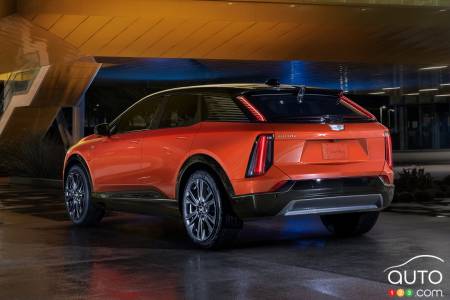 While the company shared very little else on this day, we do know a bit about the Optiq since it is present in the Chinese market. It stretches 189.8 inches in length and is 75.3 inches wide, with a height of 64.6 inches. When compared to the Lyriq, the Optiq is 7.0 inches shorter and 2.5 inches narrower. The model weighs 4850 lb. Two versions will be available - a front-wheel-drive version offering 201 hp and an all-wheel-drive version good for 241 hp.
The first configuration is likely the same one earmarked for the 2024 Chevrolet Equinox EV, which is supposed to deliver a range closing in on 500 km. We can reasonably assume this will be more or less what the equivalent Optiq offer. All-wheel-drive Equinox models use a dual-motor system, with combined output reaching 290 hp and 346 lb-ft of torque. This would make sense for the North American Optiq. Let's say it's hard to imagine a high-end Cadillac offering less than a similarly configured Cadillac.
Of course, we expect to see the more expensive versions offered first, as is the norm with the release of new electric models.