The jury then selected one car per continent for its beauty. The idea behind this first edition of the Concours and the last category was to retrace the origin of the cars and the path they followed before they finally rolled onto the lawns of Le Mirage. Some of the stories were so touching or incredible that the category virtually humanized the cars.
Even though the results were determined by the judges, the public still had the chance to vote in one category – public's choice.
Best of Show
Finally, like in all the big Concours d'Elegance the world over, from California's Pebble Beach and Monterey to England's Goodwood and Italy's Villa D'Este, the most sought-after category was naturally Best of Show, in this case dubbed the Grand-Prix Mirage. The three finalists were all hailed by the public, and one in particular had also secured the jury's favour.
Over the next few days we'll be publishing articles on the cars that particularly caught Auto123.com's eye during the competition.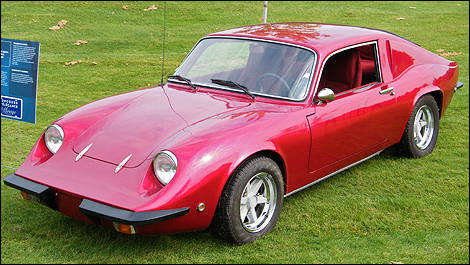 1971 Manic GT
Here are the winners per category of the first Le Mirage Concours d'Elegance:
Pre-war, European origin:
1932 MG J2 Midget
(Bruce Anderson)
Pre-war, American origin:
1937 Cadillac Speedster Boatail
(Jean-Pierre Viau)
Post-war, European origin:
1972 (Ferrari) Dino 246 GT
(Claude B. Gosselin)
Post-war, American origin:
1963 Studebaker Avanti
(Mathieu Zizka)
Elegance award, European origin:
1963 Singer Le Mans Speed Special
(Philip Avis)
Elegance award, American origin:
1954 Cadillac 62 Convertible
(Lyse Soucy and Denis Vallée)
Find of the Year:
1937 Cadillac Speedster Boatail
(Jean-Pierre Viau)
Best History:
1955 Peugeot 203C
(Daniel Baragiotta)
Public's Choice award:
1967 Austin Healey BJ8 3000 MKIII
(Louis Jazzar)
Best of Show Grand-Prix Mirage 2009 Edition:
Finalists:
1933 Nash Ambassador-Eight Series 1193
(Vic Tremblay)
1934 Pierce-Arrow 840-A Coupe with rumble seat
(Vic Tremblay)
2009 Grand-Prix Mirage winner:
1937 Hispano-Suiza K6
(Private collection)
photo:
Luc-Olivier Chamberland