The 2024 model-year will be the last for the Chevrolet Camaro in its current form, i.e. with a combustion engine. We reported this back in March, when Chevrolet announced the news and confirmed it will produce a special edition of the 2024 Camaro. What we didn't know was what that special edition would be.
In fact, it's a group of options that will be available on different variants of the Camaro. Information varies a little online, so caution is advised. In the U.S., Chevrolet is saying it will be available on versions LT to ZL1, while the Canadian media site, mentions, as it did last March, the SS, RS and ZL1 variants. It's possible the latter information has just not been updated, but either way, we know the options package will be available on more than one model.
See also: Top 10 best Chevy Camaro models of all time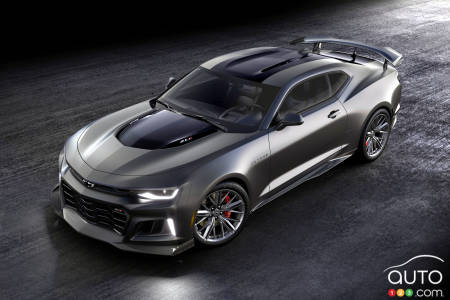 Details of the 2024 Chevrolet Camaro Collector's Edition
The final collector's edition will carry a single colour (black) commemorating the Panther code name used in 1967, when the car made its debut. The models get a shiny metallic finish, though the ZL1 edition will be matte. Black stripes are also added, and black wheels are offered as standard. Up to the SS version, it will be possible to opt for polished forged alloy wheels. The panther logo appears on the sides and steering wheel.
Other enhancements include front spoilers on all models. Models other than the ZL1 receive the rear spoiler of that version, while the ZL1 inherits the spoiler of the ZL1 that has the 1LE package. Chevrolet also adds two posters, one presenting the generations of Camaro, the other the collector's edition.
The most interesting version for collectors will be the ZL1, as its production run will be limited to 350 units. They will be fitted with a plate indicating the serial number.
Orders for all 2024 Camaro models open on June 15. Canadian prices will be announced soon, of course. Production of the Camaro is scheduled to end in January 2024, which is a little earlier than usual for the model-year cycle. Ironically, one of the model's great rivals, the Dodge Challenger, sees its run end in December of this year. This leaves the Ford Mustang as the only rear-wheel-drive American sports car on the market.
Note that the Camaro name will not disappear, as an electric variant will eventually follow. The product's DNA will change, but perhaps not its vocation.
To be continued.