• Chevrolet announces it's extending the warranty on its 2024 Silverado models equipped with the 4-cylinder engine to 160,000 km. GMC is doing the same with the 2024 Sierra.
The Chevrolet Silverado is getting a number of upgrades for 2024, including the introduction of new colours, the Super Cruise system on the High Country variant, new safety features available with certain variants and a host of minor equipment adjustments.
However, there's an another new upgrade that's sure to appeal to buyers: an enhanced powertrain warranty on versions equipped with the 2.7L turbocharged 4-cylinder engine. The warranty mileage limit is increased from 100,000 km to 160,000 km, again for a period of five years.
Note that that 4-cylinder engine will be identified differently following the upgrades it has received. It will henceforth be referred to as the TurboMax.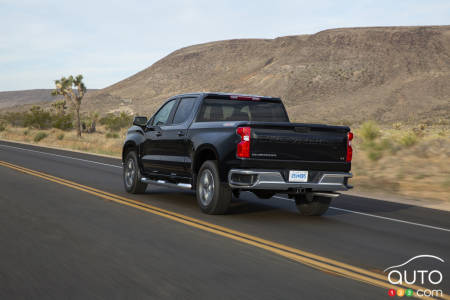 The 160,000-km warranty is currently offered on diesel-powered Silverado models. Surprisingly, perhaps, GM made no mention of an extended protection for Colorado models also equipped with this 4-cylinder block.
Clearly, the move is designed to give consumers confidence, and in the process enable the company to sell more 4-cylinder models.
A Chevrolet spokesperson told the Motor1 outlet that "This warranty is exclusive to the 2024 Silverado 1500 TurboMax as we encourage Silverado customers to experience the power and durability the TurboMax engine provides."
As for that Diesel block, off-road enthusiasts will be pleased to learn that it will be able to serve the ZR2 version of the Silverado in 2024.
Note: this information comes from the USA, but there's no reason to believe that things will be any different in Canada.
Update: General Motors Canada has confirmed the new 160,000 km warranty period will apply in Canada as well, including on the 2024 Silverado but also the 2024 GMC Sierra - in both cases, when with the Turbomax engine.