• Chrysler has surpassed 100,000 units built of its Pacifica plug-in hybrid minivan.
The Canadian division of Stellantis is celebrating the production of the 100,000th Pacifica Plug-In Hybrid at its Windsor, Ontario plant. The Pacifica is one of the few models still sold under the Chrysler banner.
The moment was immortalized when plant employees gathered for an official photo with the milestone vehicle, a 2023 Touring-L version sporting Black Crystal Pearl paint.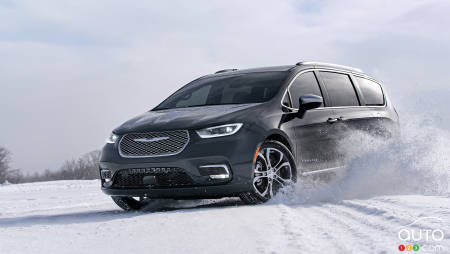 Chrysler is proud to point out that the Pacifica Plug-In Hybrid remains the only minivan in Canada eligible for a full $5,000 federal incentive on the purchase of an electric vehicle, as well as any provincial or territorial incentives available.
"Congratulations to the entire team at the Windsor assembly plant on the production of the 100,000th ultimate family vehicle, the Chrysler Pacifica Plug-In Hybrid. This one kicked off the electrified journey of the Chrysler brand, and we continue to build on this foundation to deliver the first all-electric Chrysler vehicle in 2025 and a portfolio of all-electric Chrysler brands in 2028."

- Chris Feuell, General Manager of the Chrysler brand
Production of the first Chrysler Pacifica plug-in hybrid began on December 1, 2016, as a 2017 model.
As a reminder, the vehicle offers an electric range of 51 km. Its hybrid system consists of two electric motors working with the company's 3.6L V6.