LOS ANGELES, California –
The waiting times were longer than the test drives themselves at the
L.A. Auto Show's
Green Vehicle Media Drive. Surprisingly, the lineup was at least twice the length of the one for free lunch at the Cadillac booth.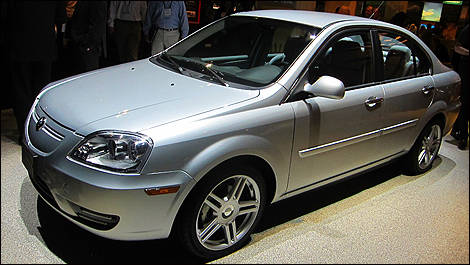 Photo: Lesley Wimbush/Auto123.com
I'd driven most of them already, thanks to previous launch and drive programs throughout the year. What I really wanted a closer look at was the CODA – an all-electric sedan that's distributed by a California-based company, but has roots in the Far East.
Based on the Chinese mid-class Saibao sedan, the CODA is built by the Harbin HF Automobile Industry Group (Hafei) in Harbin, China, then sent to California for final assembly.
CODA Holdings is a privately owned, Los Angeles company established by producing short-run, low-speed electric vehicles for government use. After receiving some $300 million in private funding, CODA set out to produce an affordable, mainstream electric vehicle with a far greater range than any currently available vehicle on the market.
After several false starts, CODA announced at the L.A. Auto Show that production of their self-named flagship sedan has started for 2012.
Starting price is a hard-to-swallow $39,000 US, but federal tax credits of $7,500 and a California rebate of $2,500 make the sticker price more palatable.
CEO Phil Murtaugh, a former GM China chairman, said the company is dedicated to bring down costs and passing those savings on to customers. CODA hopes to sell 14,000 units in the US market, and has aspirations of eventual global distribution.
Looks-wise, the CODA's about as compelling as a 15-year-old Nissan Sentra. It's about as understated a ride as you're going to find, with no cheeky design cues to suggest it's the latest up and comer in the EV game.
The big story is under the skin – where you'll find an electric drivetrain that boasts twice-as-fast charging times than the
Nissan LEAF's
– and a driving range of up to 240 km on a single full charge. It's also more powerful with 134 hp with 221 lb-ft of torque.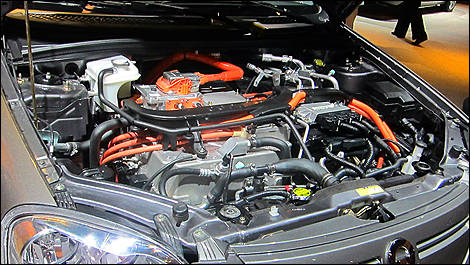 Photo: Lesley Wimbush/Auto123.com