This week we look at two models that manage to stray a little off the well-trodden path that most small utility models tend to follow. Many buyers include on their wish-list some distinctiveness, some element that ensures a unique presence on the road – and these are two good examples. But, beyond the style, which is the most interesting model for consumers?
2019 Mitsubishi Eclipse Sport
Before being taken over by the Renault-Nissan Alliance, Mitsubishi was like a candle burning down, slowly but surely. Models like the EVO, Eclipse, i-MIEV and Lancer, once good sellers all, have all disappeared. Mitsubishi promised to come back strong using familiar names. The first offspring of that strategy was the Eclipse Cross, which debuted in 2018. It was an event worth noting, because new products are rare commodities at Mitsubishi.
Different approach
This urban utility vehicle looks from some angles like more conventional models like the Honda CR-V, but from the back you might think you're staring at the ghost of the defunct Pontiac Aztek, mainly because of the two-section rear window. This is not necessarily a compliment. It must be said, however, that the general style does stand out a bit from the crowd, and the model's lines are more upscale than the average model in this segment. And for that, we salute Mitsubishi's initiative.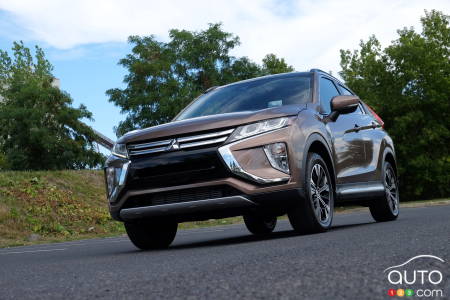 A hit-and-miss interior
You have the choice of three versions of the Eclipse Cross: the ES, SE and GT. The first includes heated side mirrors, rear spoiler, 18-inch wheels, full-colour driver data screen, Bluetooth connection, 7.0-inch multimedia display with Apple CarPlay and Android Auto and automatic climate control.
The upgrade to the SE version adds a blind spot warning with cross traffic alert and lane departure assistance, electric parking brake, power-folding exterior mirrors, dual-zone climate control, leather-wrapped steering wheel and shifter and rain sensitive windshield wipers.
The optional SE Tech Package also offers front-end collision detection, lane departure warning, cruise control, automatic high beam and auto-dimming rearview mirror.
At the top of the range, the GT features a panoramic sunroof, LED headlights, head-up display, multi-view rearview camera, 710-watt audio system, leather seats, electric driver seat adjustment, a steering wheel and heated rear seats.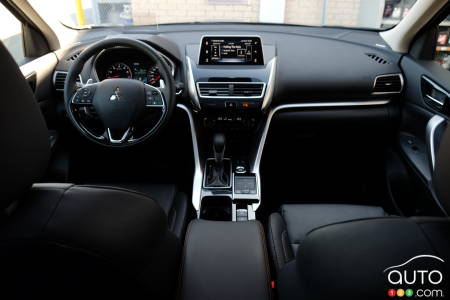 The driving position is not ideal because of the long windshield that gives the impression of sitting halfway back in the interior of the vehicle, plus there's a lot of hard plastic and using the the infotainment screen is a counterproductive experience.
Small four-cylinder
There's only one engine available in this model, a 1.5-liter turbo four-cylinder engine making 152 hp and 184 lb-ft of torque. It's coupled with a continuously variable transmission (CVT) capable of mimicking an eight-speed unit. All Eclipse Cross models come standard with the Mitsubishi Super All-Wheel Control AWD system.
All this fine and good, but the engine is simply underpowered and the CVT box kills any possibility of experiencing driving pleasure. We do acknowledge that the AWD system is very effective. As for that rear split window, we're not sure it's such a great idea as it does impact on visibility...
Conclusion
A nice attempt by Mitsubishi, but half-hearted. There are too many little things wrong to make it a big competitor in this segment.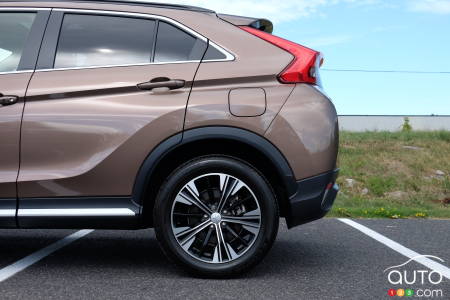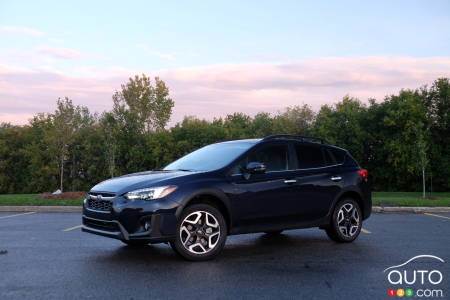 2019 Subaru Crosstrek
It's interesting how sometimes it takes a seemingly mundane tweak for a product to take off. Subaru, faced with an Impreza on its roster that was more or less attracting consumers (mostly less), decided one day to add some plastic, raise the body and give it new colours and nameplate. Voilà, the Crosstrek was born and Subaru saw sales of the "new" model explode.
In 2018, Subaru introduced the second generation of Crosstrek, now based on the new Impreza with its stiffer platform. The wheelbase is growing, but meanwhile the overhangs have been shortened. It also has a slightly higher ground clearance than the Impreza.
Four versions
You have the choice of four trims: Convenience, Touring, Sport and Limited. The first features a 6.5-inch touchscreen, cruise control, climate control, power windows, tilt and telescopic steering wheel, 17-inch alloy wheels and multifunctional display that shows fuel-consumption data among other information.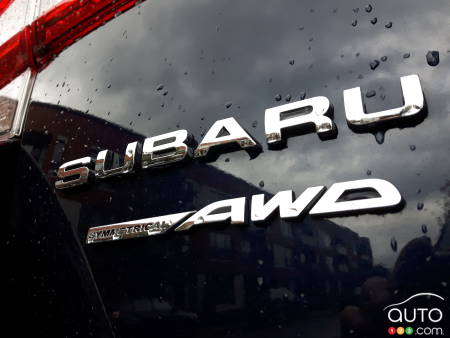 The Touring adds heated fabric front seats, automatic climate control, fog lights, rear centre armrests with cupholders, largefull- colour multifunction display, auto headlamps, 6-speaker audio system, luggage cover and leather trim for the steering wheel and gear shifter.
In the Sport version, Subaru offers adaptive LED headlights, sunroof, blind spot monitoring with rear cross traffic alert, power adjustable driver's seat, premium sports fabric padding, dual USB ports and an 8-inch infotainment system.
At the top of the range is the Limited model, which includes 18-inch wheels, leather seats, a heated steering wheel, dual-zone climate control, an 8-speaker audio system and GPS navigation.
A more nervous engine
Like Mitsubishi, Subaru has become an apostle of the CVT transmission, though it still offers a 6-speed manual gearbox for the Convenience, Touring and Sport versions. The engine is a 2.0L 4-cylinder that makes 152 hp and 145 lb-ft of torque.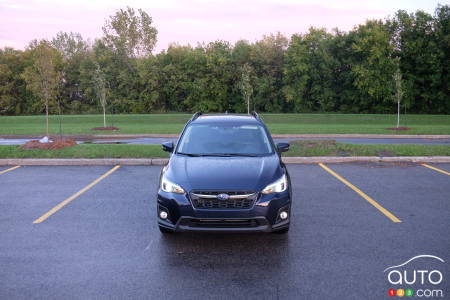 All models are available with an optional CVT, which is standard in the Limited version. The Subaru EyeSight Active Safety Suite is also available in the Sport and Limited versions.
It should be noted, however, that the CVT transmission is more effective than Mitsubishi's. It flows better and doesn't have a negative impact on performance. In fact, we would almost recommend you choose this CVT instead of the manual because Subaru is not as talented as Honda or Mitsubishi when it comes to manual gearboxes; its unit almost forces drivers into a struggle against it. The CVT is quieter on the road and also comes with a more-sophisticated centre differential that makes the 4WD system more efficient in the way it transmits power to the wheels.
But what we love most about Crosstrek is its on-road handling. Although Subaru calls it a utility model, the Crosstrek is a car and drives like a car. The grip is firm, the driving precise and the driving position ideal; this car has a soul. The new platform also translates into a more assured and comfortable drive.
Conclusion
Its stronger personality, new platform and better price point all help explain the success of the latest Crosstrek.

Advantage Mitsubishi Eclipse Cross
There are few actually, outside of the tech product offering which is more complete than in the Subaru. Plus it has better warranty coverage.
Advantage Subaru Crosstrek
The short answer here would be to say simply, everything else. This would include a more affordable price point, quieter interior, lower fuel consumption, more-vivid engine, better tuned CVT, slightly more generous space and better fuel economy.
Similitudes
In both cases, the all-wheel drive systems are true to the reputations of their manufacturers, which excel in the field.
Verdict
There's no contest here. The Crosstrek is the hands-down winner. While it's not a disappointing product, the Eclipse Cross is too expensive and a little noisy in the cockpit, and its engine is too small for the 1 500 kg of body weight it has to haul. This also tends to make it less fuel-economical.

2019 Mitsubishi Eclipse Cross
We like
Unique design
Competent all-wheel drive
Rear space layout
We like less
Underpowered engine
Noisy cabin
Too expensive

2019 Subaru Crosstrek
We like
More competitive entry price
More-rewarding presentation
Enhanced dynamic qualities
We like less
Manual transmission
EyeSight suite reserved for high-end version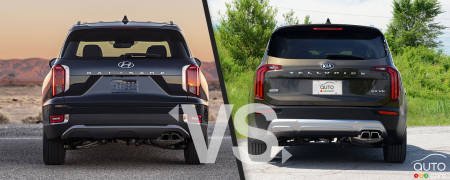 Photo: Subaru / D.Boshouwers
Specifications
| | | | |
| --- | --- | --- | --- |
| ... | | 2019 Mitsubichi Eclipse Cross | 2019 Subaru Crosstrek |
| | Transmission | CVT | 6-speed manual or CVT |
| | Drivetrain | AWD | AWD |
| | | CVT | CVT |
| | Fuel consumption (city) | 9.6L/100 km | 8.8L/100 km |
| | Fuel consumption (highway) | 8.9L/100 km | 7.2L/100 km |
| | | | |
| | Engine | | |
| | Type | Gasoline | Gasoline |
| | Output | 152 hp | 152 hp |
| | Torque | 184 lb-ft | 145 lb-ft |
| | Cylindres | 4 | H4 |
| | Displacement | 1.5L T | 2.0L |
| | | | |
| | Capacity | | |
| | Cargo Space | 640 L, 1385 L | 588 L, 1565 L |
| | Fuel tank | 60 L | 63 L |
| | | | |
| | Dimensions | | |
| | Length | 4405 mm | 4465 mm |
| | Width | 1805 mm | 1800 mm |
| | Height | 1690 mm | 1615 mm |
| | Wheelbase | 2670 mm | 2665 mm |
| | | | |
| | Warranty | 5 yr/100,000 km | 3 yr/60,000 km |
| | | | |
| | Price | $25,998 to $35,998 | $23,695 to $31,795 |
| | | | |
| | | | |
| | | | |
| | | | |
| | | | |