Have you heard? Volkswagen Group is planning a massive product assault in pursuit of their goal of world-domination. With numerous new and updated models in the pipeline, the German automaker and its various brands are working to give worldwide shoppers more selection than ever before.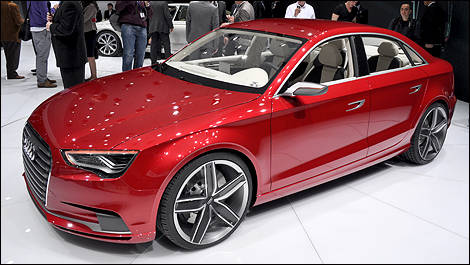 Photo: Mathieu St-Pierre/Auto123.com
One of the automaker's latest concepts was recently
displayed at the Geneva Motor Show
. Sitting squat on a huge set of carbon fibre wheels and finished in a deep red, the A3 Sedan concept showed a glimpse at a potential future A3 model variant and the next-generation styling language of the popular hatchback, which is set to be updated for 2013.
The compact A3 sedan is just 1.4 metres high and 4.4 metres long—or about a foot shorter than the current A4. This sizing could put the A3 Sedan up against compact premium models like the
Lexus HS
, BMW 1-Series and upcoming
Buick Verano
.
Ultimately, Audi says these dimensions underscore the concept's dynamic character, which can be fine-tuned by the driver through the Audi Drive Select system. Featured are five modes that alter engine characteristics, power steering feel and transmission shift behavior. There's even an "efficiency" mode for maximum mileage.
With a moderately futuristic take on the brand's current styling language, the A3 Sedan Concept boasted a four-seat notchback body, turbocharged five-cylinder engine with 408 horsepower, a seven-speed S-Tronic gearbox and, of course, Quattro All Wheel Drive (AWD). Paddle shifters and launch control are included. Equipped thusly, Audi says drivers can expect 0-100 km/h to come up in a touch over four seconds.
Helping handle the explosive power output, the A3 Sedan Concept rides the same chassis as the current Audi RS3 Sportback.
Chiseled body lines conceal numerous aerodynamic tweaks that work towards enhanced fuel efficiency and performance. Flared fenders, aluminum accents and integrated dual exhaust hint at the vehicle's stability, lightweight construction and healthy power output, respectively.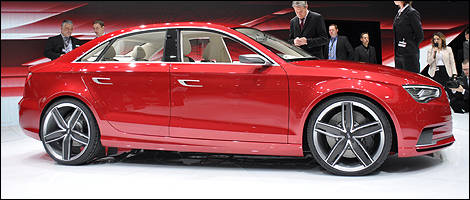 Photo: Mathieu St-Pierre/Auto123.com