Highlighting the exciting style of their cars within a sophisticated atmosphere is the goal of Alfa Romeo at this years Frankfurt Motor Show. The Italian carmakers simple yet elegant booth is intended to let showgoers discover the unique new programs and products they may see in the near future.
The first of these is a program called Unique Alfa. It's a customization process allowing customers to refine and further differentiate their machines from the norm. By selecting from either Vintage, Collezione or TI packages, consumers can have their vehicle interpreted with a modern take on a traditional look, a stylish, premium and upper-scale appearance, or as sport-tuned and performance ready model, respectively.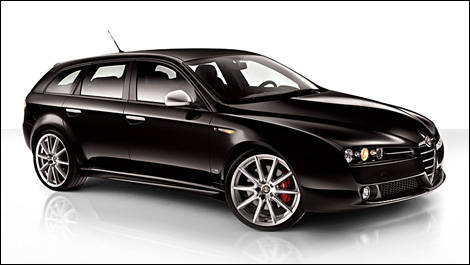 Alfa 159 Sportwagon
Carrying elements from each package, two Alfa 159s will be present. One features a six-speed gearbox and 2.4 litre engine in Sportwagon setup, and the other is a sedan with a 210 horsepower engine and all wheel drive system with Torsen self-locking differentials. The Sportwagon model is particularly striking to look at- with a distinctively Italian style and sleek, scandalous lines. Packing 200 horsepower under its hood means the name is no empty threat!
Also on hand will be an example of the 260 horsepower Alfa Spider 3.2 JTS, which Alfa says recalls their glorious tradition in this market.
photo:
Alfa Romeo