• The Dodge Charger SRT Hellcat is the most stolen car among those of the 2020-2022 model-years.
Vehicle theft is a scourge, no matter where you are, and no matter what vehicle you own. But for some, it's enough to give night terrors. Think of, for instance, those who own a Dodge Charger SRT Hellcat. Dodge's super-performance car has the honour of being the most stolen vehicle in America (2020-2022 model-years), according to the HLDI (Highway Loss Data Institute), a division of the IIHS (Insurance Institute for Highway Safety).
The HLDI study analyzed vehicle theft reports which showed the Dodge Charger SRT Hellcat on top, far ahead of all other models. In second place, surprisingly, was the non-Hellcat, V8-powered Dodge Charger. And what's alarming is that Charger thefts have increased in recent years. Matt Moore, HLDI's senior vice-president, called the figures "unbelievable".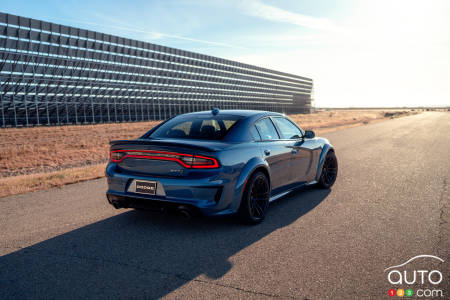 To give you an idea of the model's popularity among the sticky-fingers crowd, HLDI uses a 100-point numerical scale to indicate the industry average for frequency of theft claims. The Charger STR Hellcat has a frequency of 6128. The model without the Hellcat engine: 2197. In third place is the Infiniti Q50 with an index of 878. As you can see, this is completely out of proportion for the Dodge representative.
In fourth place is another Dodge product, the Challenger coupe, with a rating of 766.
The list of the 20 most popular models includes a few Kia products, such as the Sportage, Rio and Forte, but Hyundai/Kia vehicles have been known to be targeted by criminals because of the relative ease with which they can be stolen. For different reasons, the Range Rover and BMW X7 also figure among the most attractive to criminals.
In the case of Infiniti's Q50, it "has been a perennial feature on the most-stolen vehicle list since model-year 2014 for reasons that remain a mystery," the HDLI said.
At the other end of the spectrum, the Tesla Model 3 and Model Y are the least stolen vehicle models with a rating of 3. The Volvo XC90 and GMC Acadia follow with ratings of 6 and 7, respectively.