Among the 25 electric-powered models that the BMW group plans to produce by 2025, a number that includes a dozen all-electric models, at least one will sport the MINI logo: the MINI Electric Concept was officially unveiled at the 2017 International Motor Show Germany in Frankfurt today.
Following the path laid down by the MINI Cooper S E Countryman ALL4 plug-in hybrid, already on the market, a production version of the concept car will be ready for 2019.
Electric cars are ideally suited for city driving, of course, and that happens to be the favourite stomping ground for MINIs, making the brand and the technology a perfect match, in the view of the manufacturer.
"With its characteristic go-kart feeling and powerful electric motor, the MINI Electric Concept is great fun to drive while also being completely suitable for everyday use – and producing zero emissions to boot. That's how we at MINI envisage electric mobility in tomorrow's world," explained Peter Schwarzenbauer, Member of the Board of Management of BMW AG, responsible for MINI, Rolls-Royce and BMW Motorrad.
In addition to distinctive style elements such as the unique wheel design and the contrasting finishes that call to mind the MINI E of 2008, the designers at MINI worked extensively on the car's aerodynamics and weight in order to maximize its range… which for the moment remains unknown, as do the specifics of the powertrain. Much focus was also given to the contours, the goal being to give the car a more urban and sporty demeanour.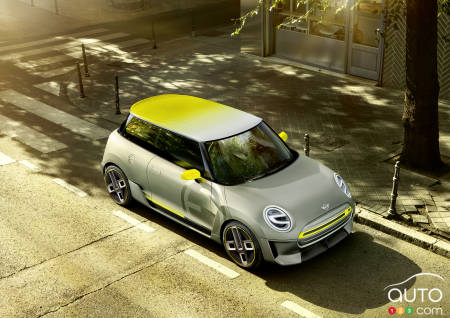 At the same time, the 2017 Frankfurt Motor Show is also the setting this week for the reveal of the MINI John Cooper Works GP Concept. Inspired by the legendary MINI victories at the Monte Carlo Rally in 1967, the concept incarnates the ultimate in driving pleasure and uncompromising sportiness, both on the road and on the track.
According to the manufacturer, racing fans will be thrilled by the super-sporty and highly aerodynamic styling, right down to the unique spoiler – as well as by its combination of spunky turbo engine and sport suspension optimized to provide exhilarating performance. Specific numbers regarding specifications have not been announced as yet, however.
The GP Concept's black Anthracite finish is accented by Curbside red and Highspeed orange elements, and several lightweight materials were used in its construction, including carbon-fibre-reinforced plastic. The interior features a roll cage and an authentic racing cockpit, while the rear row and the ceiling liner have been eliminated. The sport seats offer boosted levels of lateral support, and the driver benefits from a head-up display as well as the ability to adjust the suspension setting using the touchscreen display.