The infamous DeltaWing race car ran the Mobil 1 Sportscar Grand Prix at the Canadian Tire Motorsport Park this past weekend in the capable hands of Katherine Legge and Andy Meyrick.
Saturday, it clocked a time of 1m10.256 in morning practice, good for second place overall and second spot in the P1 class. The team changed engines between practice and the afternoon sessions. The DeltaWing LM12 qualified with a time of 1m10.531, to start the race in third place overall.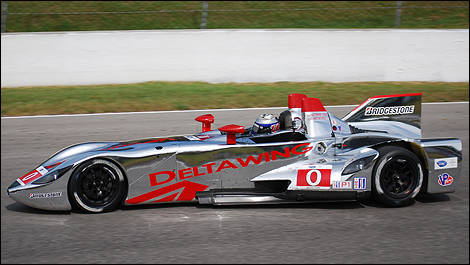 The DeltaWing LM12 (Photo: René Fagnan)
Putting a five-second gap between himself and the third place P1 car, Andy Meyrick was looking forward to a solid race until a minor chassis failure caused the oil pump to fail on lap 16.
Compared to last year, it is now powered by an Elan Power 1.9-litre turbo gasoline engine that boasts 350 horses. The tires are now provided by Bridgestone.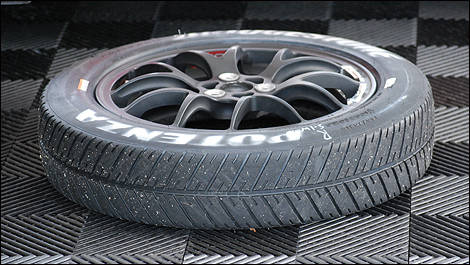 A narrow Bridgestione front tire (Photos: René Fagnan)
The aerodynamic negative lift is generated by twin vortex underbody downforce system – BLAT (Boundary Layer Adhesion Technology).
The DeltaWing weight distribution is necessarily more rearward than traditionally seen with 72.5% of the mass between the wide track larger rear tires. Seventy-six per cent of the aerodynamic downforce acts on the rear of the car which has a lift to drag ratio of >5.0.
Generating so little drag allows the 590kg DeltaWing to reach a top speed of more than 300 km/h with an engine power of just 350bhp.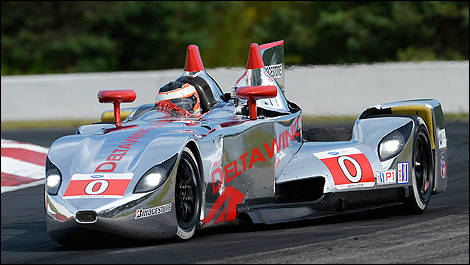 Photo: DeltaWing Race Cars
TECHNICAL SPECIFICATIONS
ENGINE
Type: 4 cylinder 1.9-litre Elan Power (Direct Injection Gasoline Turbo)
Maximum Power Output: 350bhp at 6800 rpm
Maximum Torque Output: 270 lb/ft constant from 3500 to 6800 rpm
Cylinder Head: Mazda-Speed Direct injection.
Engine weight: 176 lb (80kg)
Exhaust system: 4 into 1 exhaust with external waste-gate
TRANSMISSION
Gearbox: 5-speed sequential
Clutch: 2 Plate Carbon-Carbon
Shift System: Pneumatic paddle shift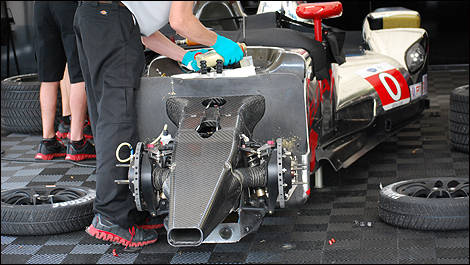 The front end of the monocoque, with the front suspensions and brakes. (Photos: René Fagnan)
CHASSIS
Chassis type: FIA homologated carbon fibre monocoque
Front suspension: Double-wishbone, unequal length, with coil over shock units to lower wishbones. 4130 heat-treated thin wall tubular steel welded construction
Rear suspension: Double-wishbone, unequal length, with pushrod/rocker actuation of coil over shock units. Motion ratio discrimination between heave and roll via fulcrum arm on rear anti roll bar axis
Fuel tank: 40 litres FIA-specification gasoline fuel cell
Brakes: Vented PFC Carbon/Carbon discs with 4-pot aluminium monoblock calipers
Brake bias: 40% torque bias front
Front brake size: 280mm diameter, 18mm thick
Rear brake size: 320mm diameter, 25mm thick
Front wheel size: 15" diameter, 4" wide
Rear wheel size: 15" diameter, 12.5" wide
Front tires: 4.0/23/R15 Bridgestone
Rear tires: 12.0/24.5/R15 Bridgestone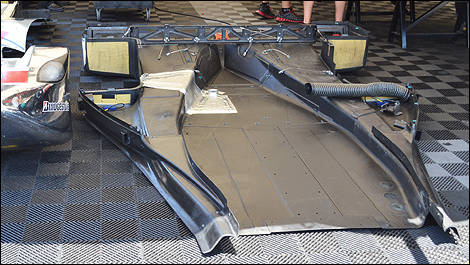 The impressive floor with the side vortex generators. (Photos: René Fagnan)
WEIGHTS & DIMENSIONS
Weight: 490kg without fuel or driver, 590kg with fuel and driver
Weight distribution (front/rear): 28/72
Overall Length: 4.65m
Front width: 0.76m
Rear width: 2.08m
Height: 1.03m
Wheelbase: 3.05m
Track width (front): 0.6m
Track width (rear): 1.74m
Minimum ground clearance (front/rear): 30mm/60mm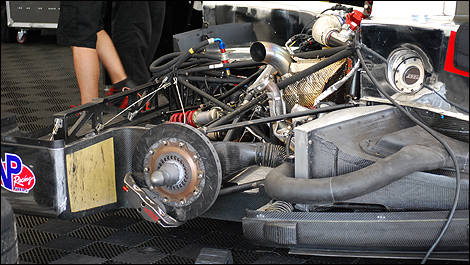 Rear end of the car showing the engine installation. (Photos: René Fagnan)
PERFORMANCE
Top speed: 195 mph (313 km/h)
0-60mph: 3.3 sec