With the first 2014 pre-season test session just around the corner, let's look at the new set of technical regulations of Formula 1 which include the use of a new power unit built around a 1.6L turbo hybrid V6 engine.
Gone are the 2.4L V8 normally aspired motors. Why? In a nutshell, Formula 1 is going green. Environmentally friendly.
Fuel will be rationed more strictly than ever before and a greater emphasis is being placed on energy recovery. Further efficiency gains will also be produced due to chassis modifications, cutting both downforce and drag.
Engine
The new engines - known as power units - must be 1.6L V6s with a single turbocharger and rev limited to 15,000 rpm. Only five power units will be allowed this season and any use of an additional complete power unit will result in the driver having to start the race from the pit lane. Meanwhile, any changes of individual elements, such as turbo, MGUs or energy store, will result in a 10-place grid penalty.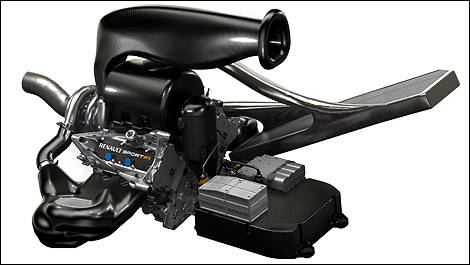 The Renault V6 power unit. (Photo: Renault Sport F1)


Fuel
Direct fuel injection is now mandatory and mass flow will be controlled according to a formula which does not allow the rate to exceed 100kg/hour. Furthermore, the amount of petrol cars will start races with comes down from around 150kg to just 100kg, meaning an effective increase in efficiency of approximately 33%.
ERS
Previous F1 cars used KERS and this device will remain. However, heat energy will also be recovered from the exhaust turbine (which spins the turbo) this year. The systems are known as Motor Generator Units (MGU-K and MGU-H respectively) and the cumulative effect will roughly be tenfold: whereas KERS in its current guise has given an 80 horsepower boost for 6.7 seconds per lap, ERS will offer 161bhp for 33 seconds. A maximum of 4MJ of energy can be stored each lap.
Gearboxes
8-speed gearboxes will replace the current 7 while ratios will be fixed for the season. Gearboxes must also last for six consecutive races, an increase from five.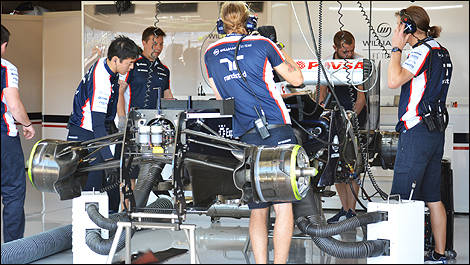 The Williams team at work in the garages. (Photo: René Fagnan)


Front wing
The front wing width will be reduced from 1800mm to 1650mm, significantly altering the airflow and reducing downforce.
Nose
The nose, which has been raised to increase downforce, will be lowered from a height of 550mm to 185mm. Also, the 'step' seen for the last couple of seasons will be a thing of the past.
The chassis height will also be lowered and the side-impact structures are now made standard.
Rear wing
No rear-wing main plane while the wing itself will be slightly flatter.
Exhaust
Single exhaust will exit centrally at the rear of the car to minimise aerodynamic side-effects. The idea of moving the exhaust to that position is to prevent their use in creating extra downforce

Weight
Engine size might be reduced but the additional ancillaries will actually push the minimum weight of the car up from 642kg to 690kg.