Adapted from GMM
There is a lot of discontent within the Formula 1 paddock in 2014.
One of the main problems has to do with the Pirelli tires, and not even ultra-dominant Mercedes AMG drivers are unhappy with the situation.
"Nico (Rosberg) and Lewis (Hamilton) are probably a bit happier (than the rest) as they have a better package, but even if you speak to them privately they say the driving experience is not as pure as it was," said David Coulthard.
In Barcelona, the 2014 F1 car was on average more than 4 seconds slower than in 2013. The main blame there fell on new rules that have curbed downforce.
On tight and twisty Monaco, however, the cars were also much slower than before, but the problem in the Principality was undoubtedly the tires.
A look at Sauber's numbers is dramatic. At Ste. Devote, cornering fell from 96 km/h in 2013 to just 90 km/h last weekend, while at the spectacular swimming pool, the cars shed 8 km/h in just a single season.
Elsewhere, it was even worse: the fast Casino curve dropped by a massive 15 km/h, while at Bureau de Tabac, F1 cars that had cornered at 149 km/h in 2013 were now doing just 135 km/h in 2014.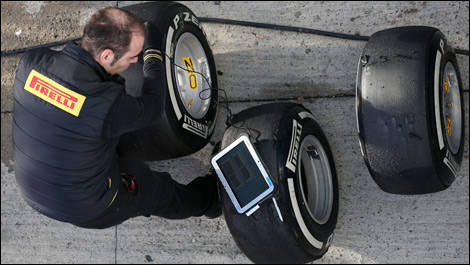 Pirelli engineer checking tires. (Photo: WRi2)
Pirelli has taken a much more conservative approach to 2014, following heavy criticism of its formerly 'aggressive' tires of the past, including the calamitous 2013 season.
The situation has been made even worse by a lack of track testing, with Pirelli moving to ensure its formerly delicate tires can cope with the extremely high torque of the turbo V6s.
But the result is an arguably much-too-hard tire.
"We could easily be using the compounds that we had in the second half of last season," Felipe Massa is quoted by Germany's
Auto Motor und Sport
.
Correspondent Michael Schmidt, however, said Pirelli is not ruling out making some mid-season corrections to its current design.
"With only four compounds for all 19 circuits, we had to compromise," the Italian supplier's F1 boss Paul Hembery said. "We would have liked more options."
Schmidt reported: "Hembery is not ruling out changes within this season."