Jules Bianchi's terrible crash at the recent Japanese Formula 1 Grand Prix suddenly reminded us that motorsport racing is still dangerous.
Despite all the recent developments and innovations in safety technology, driving at 350km/h -- even on a closed course -- remains a hazardous activity. You never know what might happen.
Since the introduction of composite materials and carbon fibre in the making of Formula 1 cars, the type of injuries to F1 drivers has evolved.
During the '60s, '70s and early '80s, drivers involved in accidents mostly received devastating leg injuries.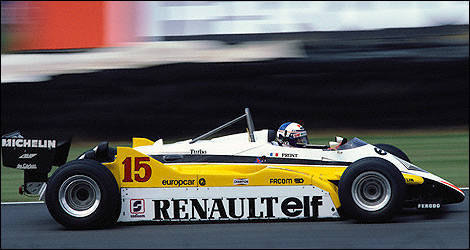 Alain Prost, Renault RE30B, 1982. (Photo: WRi2)
The monocoque chassis were made of sheets of aluminum that were glued and riveted together. That generation of wing car was designed with the driver sitting as far forward as possible, with his feet located ahead of the front axle.
In case of a head-on impact, the driver's feet, ankles and legs were crushed.
Remember the accidents of:
David Purley at Silverstone in 1977
Ronnie Peterson at Monza in 1978 (deceased)
Marc Surer at Kyalami in 1980
Jean-Pierre Jabouille in Montreal in 1980
Clay Regazzoni in Long Beach in 1980
Didier Pironi at Hockenheim in 1982
Riccardo Paletti in Montréal in 1982 (deceased)
Jacques Laffite at Brands Hatch in 1986
The full carbon chassis were introduced in F1 back in the early '80s. The technical regulations were also changed to save the legs of drivers.
Today, just the top of the helmet emerges from the cockpit. A U-shape collar of high-density foam protects the head of the driver and the HANS device limits head movement.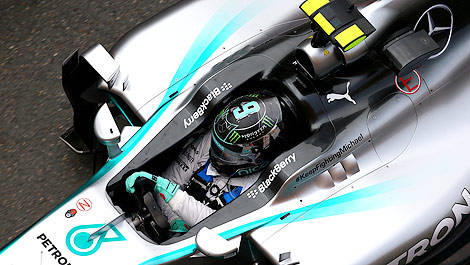 Nico Rosberg, Mercedes W05, 2014. (Photo: WRi2)
Nowadays, driver's legs are very well protected in case of a crash, while his head remains highly vulnerable.
Quite a few drivers have suffered from several head injuries in the past few years, such as:
Ayrton Senna at Imola in 1994 (deceased)
Roland Ratzenberger at Imola in 1994 (deceased)
Karl Wendlinger at Monaco in 1994
Felipe Massa in Hungary in 2009
Henry Surtees (a formula 2 driver who was killed by a bouncing wheel that hit his head in 2009)
Maria de Villota in Duxford in 2012 (she died last year resulting from her head injuries)
Jules Bianchi at Suzuka in 2014
Let's just hope that the FIA will continue to invest time and money to make motor racing safer in every category.