Can Swiss driver, Simona de Silvestro, become the next woman to race in Formula 1? Auto123.com met the former IndyCar driver in Montreal as she readied herself for a possible call from the Sauber F1 team.
Past mid-February, Sauber announced that the 25-year-old became an affiliated driver, with the goal to gain her super licence and prepare for a race seat in Formula 1 for 2015.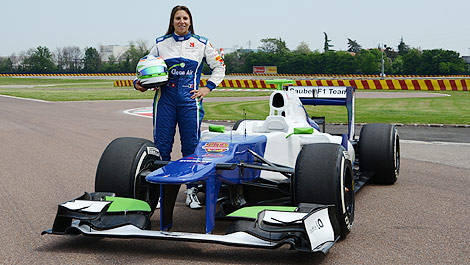 Simona de Silvestro. (Photo: Sauber F1 Team)
A keen golf player, de Silvestro discovered the joy of speed at a tender age.
"My dad has a car dealership in Switzerland, and he was a driving instructor. I was always around cars when I grew up. I got my first go-kart at the age of 6. It was really what I loved to do," she told us in the Montreal F1 paddock.
"I was playing other sports, but racing is what I always wanted to do. That was my happy place," she added.
Simona raced karts in Europe for 10 years, and contested one season of Italian Formula Renault in 2006.
"We didn't have the money to race in Europe. We found a sponsor in the US to race in the Formula BMW series. The idea was to do a season and see. It was the right move to do," she explained.
De Silvestro then moved up to the Formula Atlantic series. In 2009, she was the first woman in the series' history to have earned the most wins, pole positions, and led the most laps all in a single season, ranking third in the standings.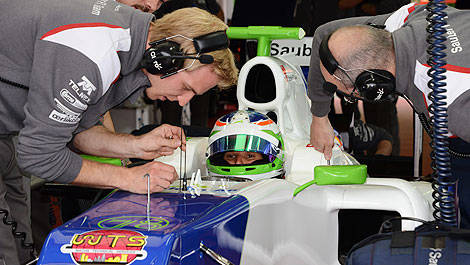 Simona de Silvestro. (Photo: Sauber F1 Team)
The year after, she moved up to the fast and furious IndyCar series.
"To be honest, the IndyCar series' drivers are incredible. I've never seen another series that is that competitive. I've raced against Tony Kanaan, Dario Franchitti, Scott Dixon. They are no slouches. They know their stuff. It's cool when you beat them because it proves that you are quick!" she laughed.
Simona also got her first taste of the ovals. She received second-degree burns on her right hand in a nasty, 230 mph crash during practice for the 2011 Indianapolis 500.
"The ovals were… interesting! I had not been on an oval in Formula Atlantic. My first time was with an IndyCar! Coming from Europe, you say to yourself: 'Hey, that's easy! It's flat out.' No, it's not! To be honest, it's something that really takes time to understand," she explained.
"Anything you know from road course racing you must forget. You start from scratch! You have all kind of ovals. On a road course, you are in control of the car. You brake, you steer, you accelerate. On the ovals, sometimes you have to let the car do the work. You have to let the car run where it wants to run, and not get scared if it moves around… at 200mph. On an oval, if you make a mistake or if something goes wrong, it usually hurts!" de Silvestro said.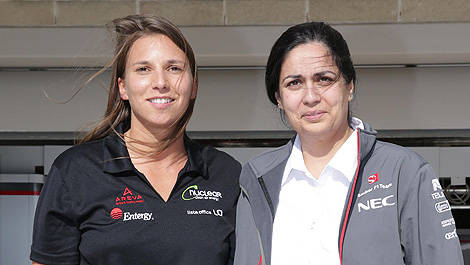 Simona de Silvestro and Monisha Kaltenborn. (Photo: Sauber F1 Team)
En route to Formula 1

After four seasons in IndyCar, de Silvestro and her manager, Indian industrialist Imran Safiulla, sat down and discussed her options.
"Do we stay in IndyCar and have a good career here or do we try F1? It was an easy decision for me to take. It had to be the right opportunity, and Sauber gave me that. Having a year off like this is a little bit strange, but I also spend a lot of time in the simulator and I do tests in an older car [a 2-year old, Ferrari-powered Sauber C31], and that's really important to learn how Formula 1 works," Simona continued.
De Silversto admitted she had a blast when she drove the F1 car for the first time at Ferrari's test track in Fiorano.
"IndyCar is a big, fast, powerful race car. I expected the F1 car to be a step above. It felt like 10 steps! It just does everything better. The braking is impressive. The acceleration is also stunning, all the way up to 7th gear. Cornering speeds and the amount of downforce are incredible. Everything is more extreme. It was the coolest thing I've ever driven, by far!" she exclaimed.
Simona de Silvestro. (Photo: Sauber F1 Team)
The next step

"We were fortunate that Sauber and Monisha [Kaltenborn, Sauber's team principal] gave us that opportunity. For Sauber being Swiss, yes, it helped a little bit," she explained.
"Formula 1 is the highest level you can get to. If a female gets there, it has to be because she deserves it, not because she's a woman. Our goal is to be on the grid next year. That's what we've always said.
"I think if we do everything right, it's possible to be on the grid next year. I train hard and I work hard. I wouldn't have done this career change if the opportunity was not real. I could have had a very successful career in IndyCar racing for the next 10 years and it would have been fine. I really want to race in F1. It's the chance of a lifetime. At least, I can look back and tell myself that I gave it a try. I don't want to have any regrets," Simona de Silvestro ended.