From Ferrari
Discover the man who has now tested 350 Formula 1 cars that have been sold and has driven every Formula 1 car from 1974 to the present one, with the exception of the 1982 126 C2.
For a long time, he also held the Fiorano track record.
He is Andrea Bertolini, born in Sassuolo in 1973 and he has spent his entire career in Ferrari, he's a star in Endurance racing with the 458 Italia GT2 and GT3, as well as testing for Scuderia Ferrari and the customer owned Formula 1 cars, which he shakes down before they are returned to their owners after periodic maintenance in Maranello.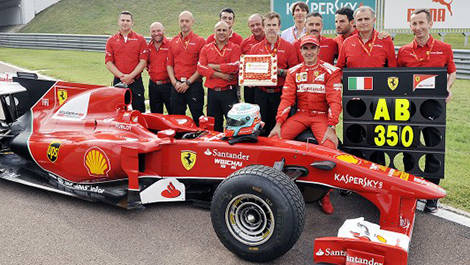 Andrea Bertolini. (Photo: Ferrari)
"I was 17 years old when I started to work in the factory. I worked on the test bench and at the same time I used to race karts, following my dream of becoming a racing driver," says Bertolini.
"I hadn't passed my test yet when I got the chance to drive five laps of Fiorano at the wheel of a 355 Challenge. Those five laps changed my life, because the chief test driver, Dario Benuzzi, took me under his wing and taught me the job. In the morning I worked on the cars and in the afternoon I did kilometres with Benuzzi, learning precious lessons for my career."
Formula 1 cars

"When Ferrari began selling its old Formula 1 cars, while still maintaining and preserving them in the garage, I was involved in the project. A driver was required to test them while they were being worked on," he continued.
"I still remember the first Formula 1 car I drove, a 412 T2. It was an incredible car, 12 cylinders, really well made, to the point that, when he tested it for the first time, Michael Schumacher, who had just joined Ferrari, asked how it had never won the World championship. I still remember that day very well. I'm not the sort to get easily excited, but when I got in the cockpit and the mechanics fired up the engine behind me, I shivered with excitement.
"For a moment, I felt like a child again, when I used to go and watch the Ferraris running at Fiorano and my idol Gilles Villeneuve, and I told myself that one of my dreams was coming true, driving a Ferrari Formula 1 car actually at Fiorano. That moment is still the most exciting moment of my professional life."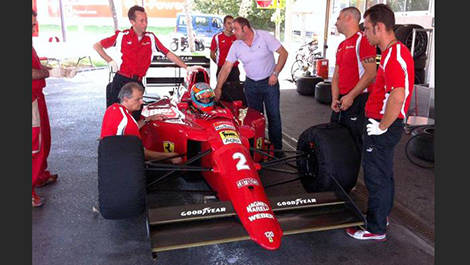 Andrea Bertolini in Nigel Mansell's Ferrari F1-90. (Photo: Twitter Ferrari)
"The oldest that came into my hands was the 312 B3-74, an incredible car, which I am very fond of. From that model onwards, I drove all the Scuderia's Formula 1 cars up to the 1982 car," Bertolini continued.
"It's not easy to rate them in order. I am very keen on the 1974 car: it's like a kart, but a bit bigger and more powerful, very light and you can drive it in a controlled slide. It was dangerous and driver safety was pretty precarious, but it was like that back then. Then I love the 1988 F187/88, the last turbocharged Ferrari prior to the F14 T, easy to drive and incredibly agile despite its traditional gearbox. However, the essence of the ability to innovate that is typical of Ferrari is found driving the F1-90 with which Alain Prost came close to taking the title. I've already spoken about the 1995 car, then there are the cars from 1999 and 2002 and 2004, the record breaking cars, extraordinary cars with which I could have had my say…"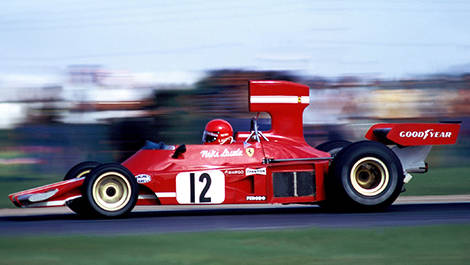 Ferrari 312 B3. (Photo: WRi2)