Speaking at the annual Autosport International on Friday, FIA safety delegate, Charlie Whiting revealed that the FIA has moved forward to improve track workers safety in Formula 1.
In June 2013, volunteer
track marshal Mark Robinson was tragically killed
after the end of the Grand Prix of Canada at circuit Gilles Villeneuve in Montreal.
Mark Robinson died after tripping and falling under the wheels of a mobile crane while the Sauber of Esteban Gutierrez was recovered from the Senna corner.
Last fall, Quebec's commission for the health and safety of workers blamed the organisers for a series of safety errors.
One of the key factors to the accident was the fact that Robinson and a colleague were walking directly in front of the mobile crane, holding tethers that were stabilising the Sauber while it was being craned back to the pits.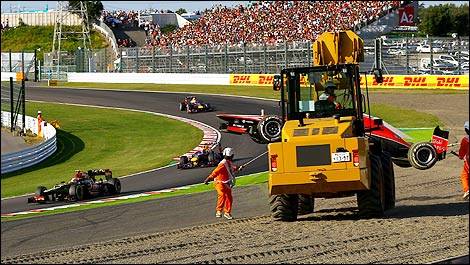 Track marshals at work in Japan, in 2013. (Photo: WRi2)
"Since that accident, we have briefed everyone to, if you are using one of those JCB-like vehicles to lift a car, you should never walk in front of it," said Whiting during his speech.
"The Brazilian ASN has a system which will attach two ropes to the car to hold it level [while being recovered] and it stops it twisting so you don't need people to stabilise it".
"We are trying to make everyone aware of this sort of system in order to minimise the amount of people needed to recover a car," Whiting added.
Hopefully, Robinson's tragic death will not go unnoticed. Race organisers must now take steps to avoiding putting marshals in the position where they could have a similar accident.