The new Haas Formula F1 team is keen to run an experienced driver alongside a newcomer when it will contest its maiden F1 season in 2016.
American businessman Gene Haas also told Autosport that the team is keen to run an American driver.
"Seat No. 1 is going to obviously be taken by an existing F1 driver that has experience with the current engine package and chassis. And then position two is open," Haas told
Autosport
.
"It would be great if we could put [an American] in there - it would just be the home run: an American team with an American driver in a European series. That would be phenomenal.
"But we're very flexible on that. Realistically, the number one thing is to make sure we don't embarrass the sport, we arrive prepared and ready to race.
"We don't want to run around at the back forever. We want to be able to start these races and improve every race we go to."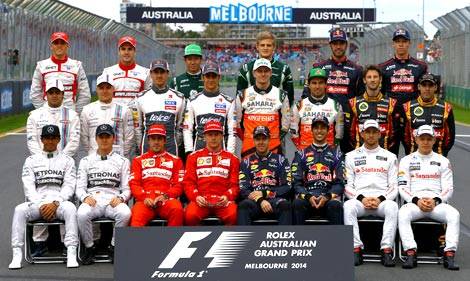 The 2014 Formula 1 drivers. (Photo: WRi2)
Haas has a limited choice in terms of American drivers with a solid background to race in F1.
There is obviously Danica Patrick who drives for the NASCAR Sprint Cup team Haas co-owns with Tony Stewart.
However, the American with the most serious experience is probably Caterham F1 test driver Alexander Rossi.
GP2 series' competitor Conor Daly also represents a possibility.