In an interview on Sky Sports News, McLaren driver Jenson Button admitted that the return of Ron Dennis has given a lot more confidence within the team.
"He is quite an unusual character Ron (Dennis), I have a lot of respect for what he has done in the sport - this team wouldn't exist if it wasn't for Ron - and I think everyone is excited, he is looking forward to this challenge and it gives everyone a lot more confidence within in the team," Button told Sky Sports News.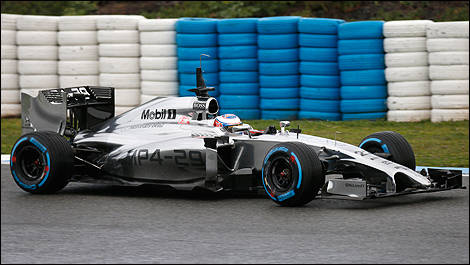 Jenson Button, McLaren, Jerez test 2014 (Photo: McLaren)
Button admitted that it's been a messy winter for a lot of people in terms of mileage on circuit.
"The two that you would pick out that look strong and consistent are Mercedes and Williams. I think those are the two teams to beat right now," Button declared.
"I'm not really sure Ferrari is third quickest either. The Force India looks quick, the Red Bull when it is running is very quick. I think you will see Red Bull putting in very good laps in qualifying. Whether they can get to the end of a race or not I don't know. For any team, to get to the end of a race is very difficult, especially at the start of the season," Button added.
The former World Champion admitted that the management of electric power will be quite complex.
"We are limited to charging two megajoules per lap, but we have four megajoules to use - basically that is how much we can use from the electric motor and it is a lot of power, we struggle to use four megajoules over a lap and at some circuits I don't think we will even get close. In a race situation it is something we will use like we did last year with KERS to overtake cars.
"The problem is, if you use it all over one lap in a race, you are left with very little for the next lap and it could be very easy for the car you have just overtaken to pass you again. So there is lots of playing around and also using the megajoules in different ways helps with the fuel usage and driveability of the car," he admitted.
Button says he's confident for the Melbourne race in about 10 days.
"If you took the initial package of everyone at the first test you would say that we are quite confident. But now it is difficult to know; we haven't put the new package on the car and we don't know where we are going to be in Melbourne. But I am looking forward to it. I don't think we are really going to know the pecking order until we get three or four races in - and again it could change as the update kits come," Button told Sky Sports News.