Drivers and engineers of Lotus Formula 1 believe that the British team will make major progress after a successful test in Barcelona this week.
Venezuelan Pastor Maldonado topped the sheet yesterday in the Renault-powered E22and completing more than 100 laps of Circuit de Catalunya.
"It's been a big step forward," Pastor Maldonado said after the second day of testing. "That was a complete day for us and my first normal day of testing this season.
"We learnt a lot more about the car, the set-up and performance is improving all the time so I'm feeling more comfortable to push too. Hopefully [that] means we'll be much better for the rest of the season," he added.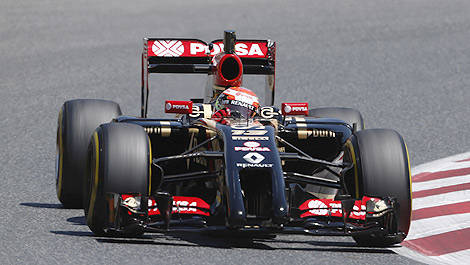 Pastor Maldonado. (Photo: Lotus F1 Team)
Alan Permane, trackside operations director, was also pleased with the running of the E22.
"We completed everything we set out to do today including aero assessments, mapping work, energy recovery scenarios, evaluations of set-up and ride height, tire usage programmes and so on and I'm pleased to say the E22 didn't miss a beat," said Permane.
"We completed over 100 laps today so it's been very good to see what is possible when we have good reliability. With the data we have collected over the last two days and the progress we've made, we're in much better shape heading to the next races. There is plenty of potential in the E22," the British engineer said.