Twenty years on from the death of Ayrton Senna, Ferrari President Luca di Montezemolo reflects on his memories of the three-time Formula 1 World Champion, Ayrton Senna.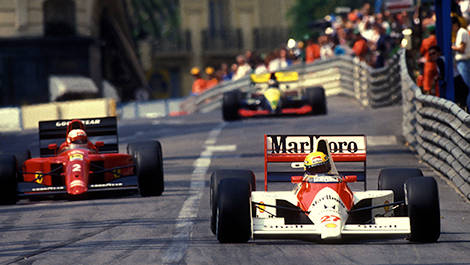 Ayrton Senna (McLaren) fighting Nigel Mansell (Ferrari), 1990 Monaco Grand Prix (Photo: WRI2)
"I always appreciated Ayrton's style of racing. As with all great champions, he had an incredible will to win and never tired of seeking perfection, trying to improve all the time," said Montezemolo on Ferrari's official web site.
"He was extraordinary in qualifying, but also a great battler in the races, when he always fought tooth and nail".
Montezemolo continued, saying that he had talks with Senna.
"He wanted to come to Ferrari and I wanted him in the team", the president explained.
"When he was in Italy for the San Marino Grand Prix, we met at my home in Bologna on Wednesday 27 April. He told me he really appreciated the stand we had taken against the excessive use of electronic aids for driving, which didn't allow a driver's skill to shine through. We spoke for a long time and he made it clear to me that he wanted to end his career at Ferrari, having come close to joining us a few years earlier," he said.
"We agreed to meet again soon, so as to look at how we could overcome his contractual obligations at the time. We were both in agreement that Ferrari would be the ideal place for him to further his career, which to date had been brilliant, even unique.
"Unfortunately, fate robbed all of us of Ayrton and Roland Ratzenberger over one of the saddest weekends in Formula 1 history. Of Senna, I remember his kindness and his simple almost shy nature, which was in complete contrast to Senna the driver, a fighter always aiming for the best," Montezemolo concluded.