Formula 1 teams will travel to Italy this weekend to contest the famed Italian Grand Prix held on the toughest circuit of the season on engines.
Monza -- nicknamed the "Temple of Speed" -- represents the ultimate test for an engine's outright performance and reliability.
"Over three quarters of the lap is spent at full throttle and the maximum speed goes over 320 km/h four times each lap," said Remi Taffin, Renault Sport F1's head of track operations.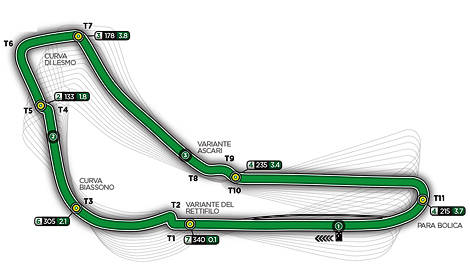 Image: Caterham-Renault
"In fact the RS27 will be at full throttle for nearly 20secs in two sections of the track – twice as long as a drag strip. It is only the grip generated from the wings stop the cars from lifting – a small plane would take off in the time and the speed reached down the pit straight," he added.
The single seaters will also be at the highest average speed of the year; very close to the 240 km/h mark.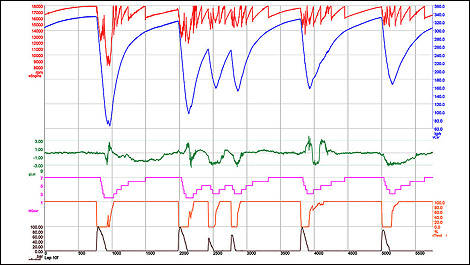 The blue line represents the speed of the car. It's easy to see the 4 long straighaways. (Image: Caterham-Renault)
"Only three chicanes break the flow of the lap so drivers try to straightline them as much as possible, however this places its own demands on the engines as the drivers ride the kerbs, momentarily unloading the rear axle and making the engine hit the rev limiter. The phases of heavy braking and acceleration run huge loads through every part so we tend to use a new engine where possible," he said.
"Even though the engine is running at full throttle for three quarters of the lap, fuel consumption is actually one of the lowest of the year and the race starting fuel load is one of the lowest of the season. It is actually the most fuel efficient of the year as the engine is working at a largely constant rev and the car is running a very low downforce package," Taffin explained.