Our photo agency, WRI2 took two very interesting photos of the Mercedes W05 Formula 1 car without its engine cover in the garages of the Shanghai circuit.
We adjusted the contrast to enhance the details.
Beneath all those ducts and coolers there really is a 1600cc V6.
The Power Unit packaging is very tight and the photos illustrate why maintaining these cars is so much more work than in previous seasons.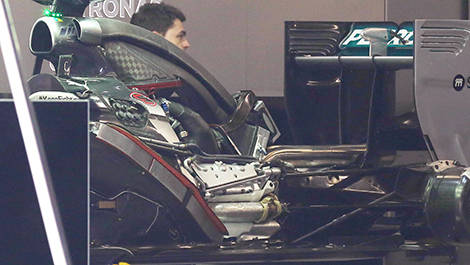 Mercedes W05 F1 car, Shanghai (Photo: WRI2)
The silver component at the bottom of the car is the V6 engine.
With the engine sitting so low in the chassis, Mercedes have included a raised stiffening rib between the front engine-to-chassis mounting and the interface between the engine and gearbox. This helps maximise torsional stiffness, something vitally important to an F1 car's performance.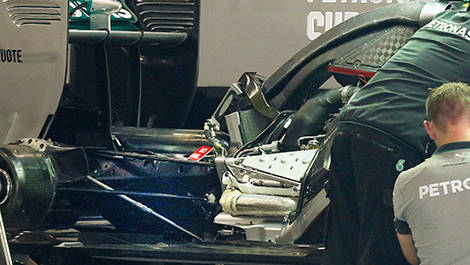 Mercedes W05 F1 car, Shanghai (Photo: WRI2)
We can also see the many coolers required to maintain the temperatures of the hydraulic oil, gearbox oil, engine oil, water, ERS battery pack and control unit and the intercooler for the forced induction system.
Underneath the top carbon fibre box is a black connector. It goes from the cold side of the
turbo (the compressor)
to the airbox itself, where the air pressurised by the turbo is fed into the V6 engine.