British motorsport magazine Racecar Engineering recently posted a feature about
Cosworth's V6 turbo hybrid engine
that will not be raced this season.
British engine maker Cosworth left the Formula 1 scene at the end of last year with their last race with Marussia with the 2.4L V8 engine.
Sources at Cosworth told Racecar Engineering founder Ian Bamsey, now editor of Race Engine Technology magazine, that work on the initial 4-inline turbo engine started as early as 2010.
The magazine claims that the work was a request of German car manufacturer Volkswagen.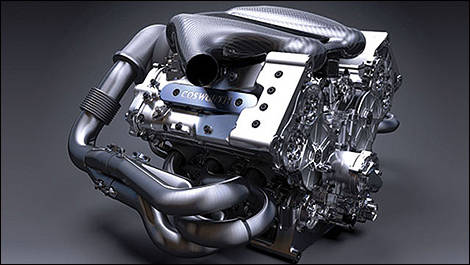 Cosworth V6 power unit (Photo: Racecar Engineering)
In June 2011, the rules were changed and the 4-inline configuration was changed to a V6 at 90 degrees. This decision from the FIA made the board of Volkswagen change its mind and drop the project.
Cosworth engineers continued to work on the V6 power unit so the British company will be ready to return to F1 when the required financial support is found.
The Cosworth V6 turbo hybrid will not be raced this year but Racecar Engineering says it would be ready for next season.