Monaco is the slowest Formula 1 circuit of the season. Rivals say that such a twisty track might just neutralise the Mercedes W05s perceived advantage of very high top speed.
Red Bull Racing and Scuderia Ferrari arrive firmly believing that Monaco will offset their poor top speed, and the cornering ability of the Renault-powered RB10 car has long been recognised as standard setting by trackside observers.
"Monaco is one of my favourite tracks, it's an absolute challenge," admits Red Bull's Sebastian Vettel.
"You cannot afford to make one single mistake, because you would easily crash into the railings. Overtaking is only possible with taking an extreme risk. The best place to overtake is before the harbour chicane when we exit the narrow tunnel at 300 km/h and race towards the first-gear chicane", vettel explained.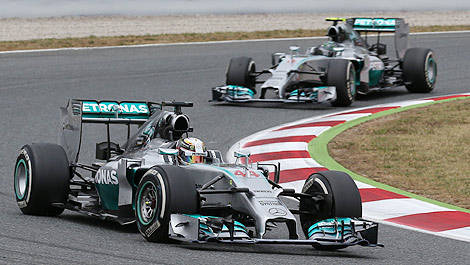 Lewis Hamilton and Nico Rosberg, Mercedes W05. (Photo: WRi2)
Ferrari's Fernando Alonso also hopes that Mercedes AMG could be vulnerable here, and that Red Bull will challenge strongly.
"I think Monte Carlo will be one of the few possibilities to challenge Mercedes, especially for Red Bull," Alonso said.
"In the corners they [Red Bull] are very fast but on the straights they seem to lose a lot of lap time. In Monte Carlo there are no straights so Red Bull could challenge Mercedes."
He also stresses that Ferrari is not aiming merely for a podium finish here. "It's true the world championship is in their [Mercedes'] hands. They have a big advantage, but I think it's not any different to any sport, or any racing over the years - we can fight. We need to have a strong weekend and get some good points," Alonso declared.
The first free practice session will begin at 10am, local time, Thursday morning.