During the Canadian Grand Prix weekend, Auto123.com met with Toto Wolff, executive director of Mercedes AMG Formula 1 team. Wolff said he is convinced their rivals will catch them up, sooner or later.
Toto Wolff, do you think the engineering battle in F1 has gone too far with the new V6 turbo hybrid power units?Wolff:
"The engineering battle in F1 has always been fierce. This year, the scope has changed a little bit. In previous years, the aerodynamics of the car played a major role. This year, the focus has probably switched toward power unit. The rules have cut down aerodynamics by 25%, we have narrow front wings, no blown exhaust anymore, so I think the power units plays a more important role".
Mercedes AMG is currently enjoying a solid advantage. Do you think it's going to last?Wolff:
"Without any doubt our rivals will catch up. We do not expect our advantage to remain as it is. In fact, we were a little surprised to see how well we were doing in pre-season testing. We were one of the few teams running steadily. Red Bull did not run at all during the first days. However, (Daniel) Ricciardo closed up to Lewis (Hamilton) in Monaco and that was a wake up call for us".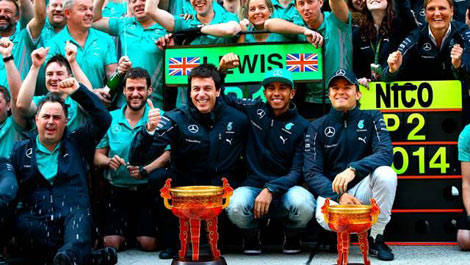 Mercedes celebrates Lewis Hamilton's victory in China (Photo: WRi2)
Any more changes expected for next season?Wolff:
"Next year, we will have a few more aero changes, we know the noses will not look ugly anymore. The engine concept is homologated. I think you will see big steps taken forward. You can almost change the whole engine again as long as you are within the original concept. I think our competitors will make big steps forward, especially on how they deploy hybrid energy, where they are lacking the most this year."
Are the medias exaggerating the rivalry between Lewis Hamilton and his teammate Nico Rosberg?Wolff:
"The press needs to talk about it, because I think that's the only story left this year! (laughs) Your No. 1 enemy is your teammate. There have been ups and downs so far this season. We haven't seen a big down yet. We have not lost a front wing. The guys are really intelligent and mature. They know that driving into each other is probably the biggest risk of losing the title. They know what to do. Team comes first. Our No. 1 target is to win the constructors' championship. Then if one of our drivers wins the drivers' title, well that's even better. Mercedes is one of the largest automobile brands in the world, and obviously we don't want to look like fools."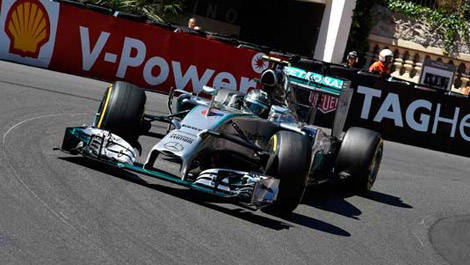 Nico Rosberg, Mercedes W05 (Photo: WRi2)
When did Mercedes start working on the Power Unit project?Wolff:
"It goes back to three years ago. We took some crucial decision last year to focus on the 2014 car. You saw that we dropped back a bit in performance in the second half of the season, and that was because we were working on the turbo car".