From F1 Black Book
Television sports networks TSN and RDS have extended their Formula 1 TV rights deal until the end of the 2019 season.
The Bell Media-owned broadcasters will continue to screen Grands Prix exclusively live in Canada across all platforms, with TSN carrying English language coverage and RDS airing races in French.
The new deal begins next season, and also includes qualifying and practice sessions as well as replayed broadcasts.
"We are very pleased to have renewed our longstanding partnership with RDS and TSN and I look forward to continuing to work with them to bring Formula 1 racing to fans across Canada," said Formula One group chief executive Bernie Ecclestone.
Gerry Frappier, the president of RDS, added: "Formula 1 has an incredibly wide, loyal and passionate Canadian fanbase, and we are thrilled to extend the wonderfully successful partnership we have had with the F1 team for more than 20 years. This extension speaks volumes about the meaningful relationships we build with our partners and the world class spotlight we shine on F1."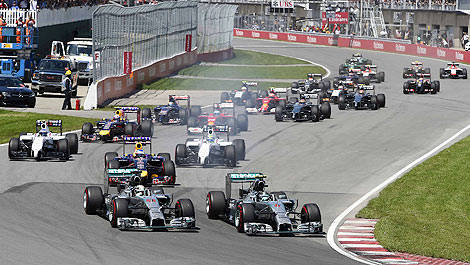 Start of the 2014 Canadian Grand Prix. (Photo: WRi2)