Ford has debuted the new Mustang Mach-E Rally variant at the famed Goodwood Festival of Speed. It was an inspired choice of setting for Ford to introduce the newest variant to join the lineup of the all-electric SUV, providing a good opportunity to show off the model's capabilities.
Those capabilities have not been detailed by Ford as yet, but reports have the model based on the GT trim of the Mach-E, which is capable of 480 hp. It's also expected the Mach-E Rally will ride with Magneride magnetic shocks and sit a little higher to deliver more ground clearance. The underside will feature new protective plates.
The images show a vehicle with a rear wing and rally-inspired wheels, on which are fitted BF Goodrich Trail-Terrain tires. And why not - Ford VP for EV Programs Darren Palmer said that the Rally is conceived to deliver to customers "the freedom to venture off the asphalt and beyond the beaten path." The executive also vaunted the model's stability on paved roads as well as rougher surfaces.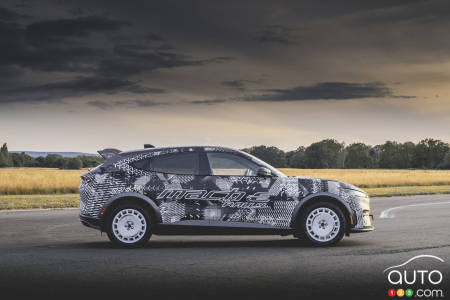 Otherwise, we can expect some distinguishing esthetic features to set the Mach-E Rally apart from its more sedate siblings in the lineup.
Ford says the model will be offered in North America and Europe before rolling out to other markets. No timeline has been given, but we expect more details to come out on that and on the vehicle itself – including pricing – over the next few weeks and months.