The rebranded Amlin Aguri Formula E Team has contracted Katherine Legge as one of its drivers.
Due to a new main sponsor revealed on their official website, the team has been renamed as Amlin Aguri Formula E Team.
Katherine Legge is an experienced driver who has proved her prowess on both sides of the Atlantic. She became the first confirmed woman driver to compete in the FIA Formula E Championship.
"At first glance insurance and high performance electric motorsport might seem an unusual combination, but look closer and there's real continuity at work," the team states. "Like all performance racing, Formula E is driven by innovative and informed risk taking based on the accurate analysis of data – exactly like our day-to-day insurance work."
Katherine Legge said: "For me this is a really exciting opportunity. The car is fantastic, it looks amazing and it will be very quick. Racing through the streets of the world's leading cities will be an incredible experience and I think it's a great chance to bring racing to the people. We will be driving in their cities on their streets."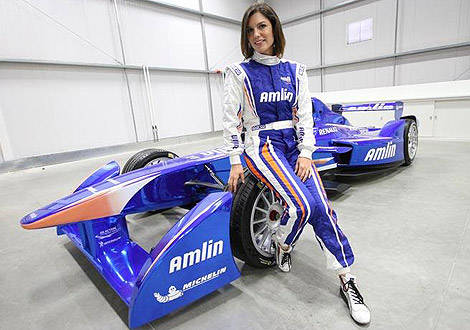 Katherine Legge. (Photo: Amlin Aguri Formula E Team)