The Genesis brand is still relatively new to the market, but it's growing steadily. This past August, it reached an important milestone as it surpassed one million vehicles sold worldwide.
Genesis first opened for business in 2015, and its first models appeared on the market shortly afterwards, one at a time. But growth has come steadily, and since 2021, Hyundai's luxury marque is regularly selling over 200,000 units a year. In May of that year, the brand's total global sales passed the half-million mark.
The arrival of SUVs in the range has greatly contributed to this growth. Initially, Genesis offered less-popular cars, giving it time to build up its structure.
Genesis is now present not only in North America, but also in Europe, China, Australia, Russia and the Middle East - 17 markets in all. By August 2023, Genesis had achieved cumulative sales of 1,008,804 vehicles worldwide.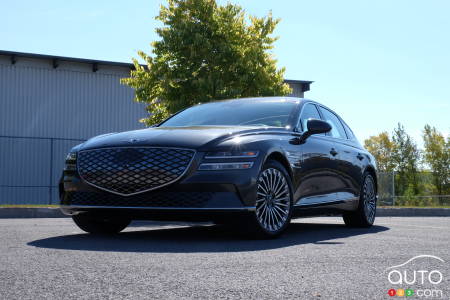 The top market for Genesis?
It'd be a safe bet to pick the United States as the top market for Genesis, but it would be wrong. It's actually within the brand's home Korean market that the majority of sales have been recorded, with 690,177 units.
As for the best-selling model, another surprise: It's not an SUV. The top Genesis seller all-time is the G80 sedan, the first model the company offered. In all, 390,738 units have been delivered to customers.
The GV80 and GV70 SUVs follow, with 173,882 and 160,965 sales respectively. The GV80 came to market first, but it will soon be overtaken by the GV70, which is the brand's most popular vehicle today.
Looking ahead
Other models are expected in the coming months and years, including a coupe version of the GV80. Then there will be a flurry of electric vehicles, which will grow the lineup... and sales.
Clearly, this is a great success story.