Auto123.com presents its winter tire buying guide for 2023-2024. Today, a summary of the current state of affairs in winter tires. Tomorrow, the best winter tires for cars and small SUVs. Saturday, the best winter tires for SUVs and pickup trucks!
Time flies, and we're once again at the time of year when it's time to think about preparing your vehicle(s) for the winter ahead. And part of this ritual is thinking about winter tires.
Given the ever-increasing prices of new cars and SUVs, many owners are choosing to keep their vehicle a little longer than they might have originally planned. For some, this means buying new, more efficient winter tires.
Remember that in some Canadian regions, including Quebec and parts of British Columbia (especially the faster roads), the use of appropriate winter tires is mandatory.
Even elsewhere in the country, many vehicle owners choose to stack the safety odds in their favour by foresaking summer or all-season tires in favour of winter tires (or "cold weather tires", as one British Columbia-based manufacturer once called them).
See also: Winter Tires: The Most Frequently Asked Questions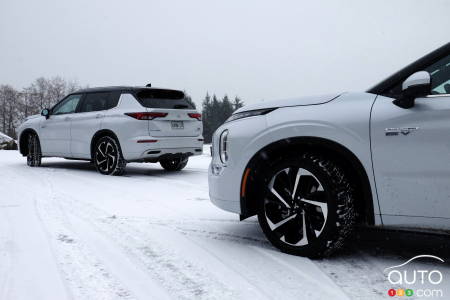 Very few new products this year
Given the economic slowdown of the last two years, very few manufacturers have been keen to introduce new products for the coming season.
As a result, there are only a few updated tire models on the market.
Notably, there's a change at Nordman; the Finnish brand has become an independent brand (while remaining part of the Nokian fold). Nordman is launching the Nordman North 9 for cars and vans, a tire that closely resembles the Nokian Hakkapeliitta 9 with a few alterations to the tread pattern.
We also welcome the latest addition to Canadian Tire's Edge range, which offers a winter version of its tires, but with the distinctive Hankook logo. Hankook manufactures this new winter tire that was featured in Auto123.com late last winter.
See: Motomaster Winter Edge II Tires Review: We Test the New Tire on Snow and Ice
You may recall as well that American tire giant Goodyear is now owner of the legendary American Cooper brand. So we should be seeing some news on that front in the coming months.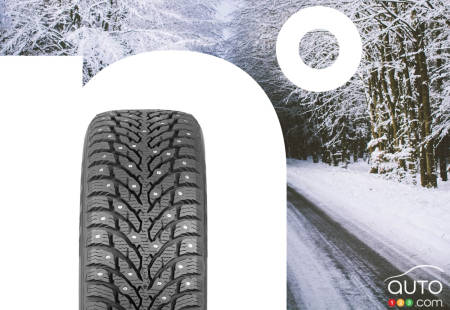 Otherwise, the status quo means that if you're looking for an in-depth summary of what's available on our market from the big, trusted brands, you can consult our winter tire guides, 2022-23 edition, which describe most of the tires available in Canada.
See: The Best Winter Tires for Cars and Small SUVs for 2022-2023
See: The Best Winter Tires for Larger SUVs & Pickup Trucks for 2022-2023
A few tips
You should know that it will be a little easier to get what you're looking for this year, since last year's supply-chain issues have, we were told by retailers and manufacturers, been largely been resolved.
However, if your mechanic advises you to change your worn winter tires, if you yourself feel that it's time to put new tires on your vehicle, or if you own a new vehicle that will need winter tires, don't delay too long. The most affordable products (or the most popular, such as those in sizes 205 or 215/55 R16) are likely to go fast. You may find that you only have the more expensive top-of-the-range tires at your disposal!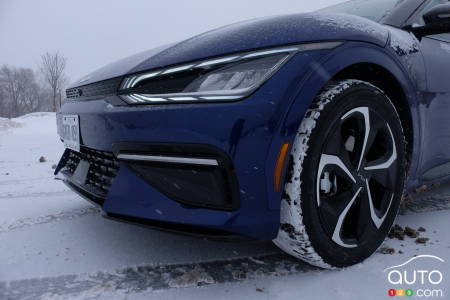 The trends
While the true, dedicated winter tire remains the preferred choice, electric-vehicle owners are increasingly looking at whether tire manufacturers are going to introduce EV-specific winter tires.
In truth, it's better for EV owners to choose high-quality winter tires, for a few reasons:
to compensate for the heavier weight of the vehicle (especially because of their batteries)
to harness the higher torque on offer from the electric powertrain by offering superior grip
to run as quietly as the EV itself does (a point not to be underestimated!)
Winter-approved all-season tires
Meanwhile, the very recent technology of so-called "homologated" or winter-certified tires, those that can remain on the vehicle all year round, continues to win motorists over, especially those who don't use their vehicles much in winter, or only when the roads are completely clear, or to travel south in at the onset of Canadian winter.
As the technology develops, we're finding that most of this corner of the market is dominated by two products offered by two major manufacturers: the Nokian WR-G4 and Michelin Cross-Climate2. These products often make the headlines in European trade magazines, and generally take turns snagging best-tire awards over there. We are currently testing both of these tires.
A third tire with the same technology is now among us, and is also undergoing long-term testing by Auto123. That would be the recently updated Hankook 4S2 (750).
See: Hankook Kinergy 4S2 (750) Tire Review
Studded tires
For some motorists, the choice of a studded tire for added peace of mind is a no-brainer. However, there are some disadvantages to choosing such a tire, the first being that studs are generally not available with high-end tires except for Nokian Hakkapeliitta, Michelin X-Ice North and Continental XTRM, the studs of which are factory-fitted (and even glued in the case of Continental, whose prototypes were designed and created in Quebec). For most other studded tires, you'll have to fall back on intermediate or mid-range tires.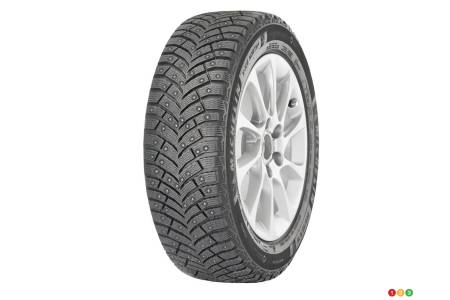 As well, know that this type of tire is generally noisy, and that it's not allowed in most underground parking lots. Plus, on dry pavement, it will lose some grip, since part of the tread is "covered" with metal parts (which should wear along with the rubber). Tires of this type cannot be kept on your vehicle in summer, of course.
Tomorrow, we present our picks of the best tires for cars and smaller SUVs we tested throughout last winter.