Honda has already announced its intention to have two-thirds of its global sales consist of at least partially electric vehicles by 2030. It is a highly ambitious goal, to be sure, especially when we count up the less-than-successful attempts the company has made in the segment up to now.
The first test of that goal's attainability starts right now. It remains to be seen whether the new 2018 Honda Clarity Plug-In Hybrid will succeed where the Insight, CR-Z and Civic Hybrid, all now defunct, did not. But the company did keep its promise to deliver its new electric model to the Canadian market before the end of 2017, if only just!
At what price?
The Clarity comes with a starting base price of $39,900 – more expensive than the Honda Accord Hybrid ($31,300 for the 2017, with no 2018 version announced yet); the fully equipped Touring version costs $43,900. Where it gets interesting for the Clarity and for consumers is when the available government incentives are factored in: $14,000 in Ontario, $8,000 in Québec and $5,000 in British Columbia.
The interior is quite spacious, as is the trunk with its 439 litres of available cargo space. Standard equipment includes 18-inch wheels, LED headlights, an 8-inch screen display for the audio system, Apple CarPlay and Android Auto compatibility, the HondaLink mobile application and the Honda Sensing suite of safety and drive assist technologies (forward collision alert, impact reduction braking, lane departure warning and lane keep assist, adaptive cruise control, etc.). The Touring version adds a navigation system, satellite radio and leather seating and steering wheel.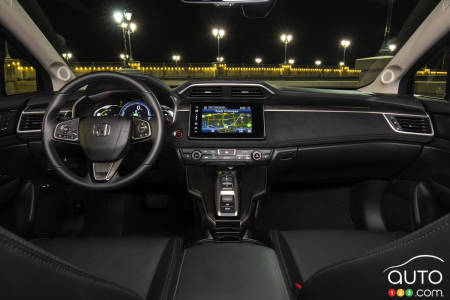 Competitive performance
The 2018 Honda Clarity Plug-In Hybrid as an average energy-use rating of 2.1Le/100 km thanks to its 76-km range in electric mode – slightly less than the Chevrolet Volt, but more than the Toyota Prius Prime, Ford Fusion Energi and Hyundai Sonata plug-in hybrid. In other words, you can complete most of your daily comings and goings without ever calling on the gasoline engine.
Its dual-motor powertrain gives the Clarity Plug-In Hybrid a total power output of 212 hp and 232 lb-ft of torque. Owners will find more to like in its 17-kWh battery, rechargeable in just 2.5 hours when using a 240-volt station.
Keep an eye out in early 2018 for our review of the Honda Clarity Plug-In Hybrid, or drop in at your nearest Honda dealership to check it out for yourself!