Prindiville, a British tuning house known for its work on premium sports cars, has just created an all-electric version of the late Hummer.
Much smaller than the original at 3 metres long, 1.4 metre wide and 1.4 metre tall, the Prindiville Electric Hummer is a three-door, rear-wheel-drive SUV with seating for two and, more importantly, zero emissions. It uses a 72V electric motor and nine 8V batteries that provide a range of 40 miles (64 kilometres) with a top speed of 40 mph (64 km/h).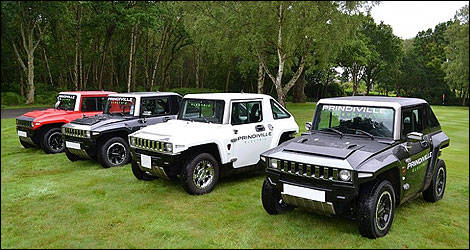 Electric Hummer. (Photo: Prindiville)
According to Prindiville's website, the Electric Hummer starts at £14,000 (equal to $22,200). A carbon fibre-trimmed model is available at £25,000 ($39,700).
Should the vehicle remain on the other side of the Atlantic, here's hoping that the idea behind it will at least make it across.