The
Hyundai Equus
is the only high-end luxury vehicle offered by a non-premium brand. Hyundai's dealerships are not the luxury palaces of some premium brands, but that hasn't stopped Hyundai from providing a premium experience for owners and potential customers of its luxury Equus sedan.
Since the Equus was first introduced for
model-year 2011
, "Your Time, Your Place" and "At Your Service" have been part of the vehicle's proposition.
"Your Time, Your Place" is about shopping. For potential customers who would like to test drive the vehicle, a special trained "Product Champion" will deliver an Equus to their home or office for a personalized shopping experience.
"At Your Service" is about maintenance and repairs. Whenever an Equus owner or lessee needs to have their vehicle serviced, the dealership will pick up the customer's vehicle and leave the customer with a loaner. It's usually another Equus, but it could also be a
Genesis
or
Veracruz
. Customers also get their cars back with a detail service equivalent to a "new delivery."
Equus models are only sold through 27 specially designated Equus dealers. (Hyundai has 210 dealers overall in Canada.) Toronto's West End Hyundai is one such Equus location, and dealer principal, Bob Attrel, says the program is a definite hit with his Equus customers.
At West End Hyundai, they have a dedicated Equus salesperson and a dedicated Equus service writer. Attrel says both individuals have forged great relationships with the Equus customers and know all of them by name.
Hyundai's Chad Heard says the program has become a "unique selling proposition" and encouraged the company to try a pilot program with Hyundai's other luxury offering, the Genesis sedan. So far, the Genesis pilot project is just for test drives, there is no service component.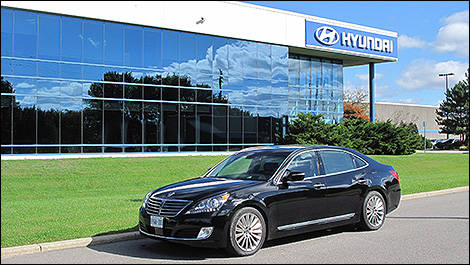 Photo: Mike Goetz