The IIHS (Insurance Institute for Highway Safety), the US agency that conducts the industry's most extensive crash tests, has released the results of its latest moderate overlap frontal collision exercise. This latest exercise is more challenging for vehicles.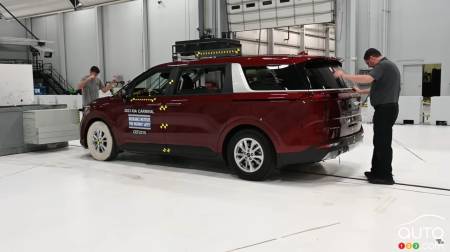 In recent tests of minivans - namely the Chrysler Pacifica, Honda Odyssey, Kia Carnival and Toyota Sienna – the vehicles scored poorly for protecting rear-seat passengers.
Note that the IIHS can award four grades, ranging from Good to Acceptable to Marginal to Poor.
The new moderate overlap front crash test is designed to assess the safety of second-row passengers. While all the minivans tested offer excellent protection for drivers, things didn't go so well for the dummies in the rear. It's also worth noting that for some time now, in order to better reflect reality, the IIHS been using smaller dummies in the back seat, to represent either an adult woman, a teenager or a 12-year-old child.
"Back seat safety is important for all vehicles, but it's especially vital for those, like minivans, that customers are choosing specifically to transport their families," said IIHS President David Harkey.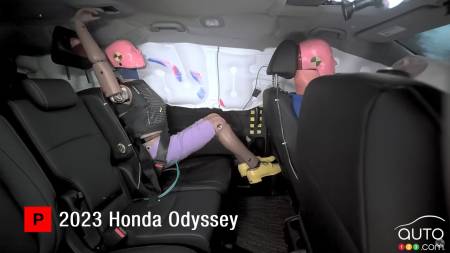 The problem is that second-row occupants are vulnerable at rib-cage height. The IIHS said the tests revealed "excessive belt forces or incorrect belt positioning". In some cases, the injuries caused could be fatal.
Of the minivans tested, the Toyota Sienna is the only model equipped with belt pretensioners and force limiters. However, in the test the dummy in the rear seat slipped under the lap belt, and the shoulder belt went to the neck.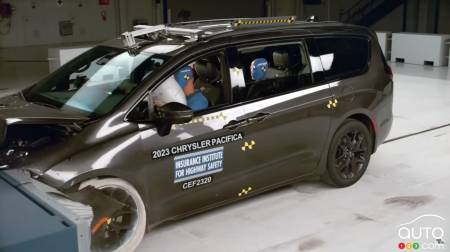 In the case of the Pacifica, the side curtain airbag failed to deploy, posing an additional hazard and problem.
With the Kia Carnival, forces exerted on the dummy's neck were higher than in the case of the Pacifica and Sienna. According to the IIHS, this could increase the risk of head or neck injury.
Finally, sensors placed on the Odyssey's second-row dummy revealed even higher forces on the head and neck than for the Kia Carnival. The head could also hit the back of the front seat.
Ratings were Marginal for the Pacifica, Sienna and Carnival models, while the Odyssey received a Poor rating.
As these tests using more realistic new dummies reveal, manufacturers will have to make adjustments to improve rear passenger safety. And said changes will also have to ensure that taller people remain just as well protected in the second row.