From AER
Andersen Promotions Tuesday announced Advanced Engine Research Ltd (AER) as the new engine supplier for Indy Lights Presented by Cooper Tires.
AER was selected following a thorough review of proposals submitted by five prospective engine suppliers.
AER is owned by Rob and Chris Dyson and company Managing Director Mike Lancaster.
The partnership between Andersen Promotions and AER, which extends through 2019, will see a slightly modified, long-mileage version of the multiple sportscar championship-winning AER-P07 2.0 liter, turbocharged four-cylinder engine installed in the new Dallara IL-15 chassis prior to testing next August.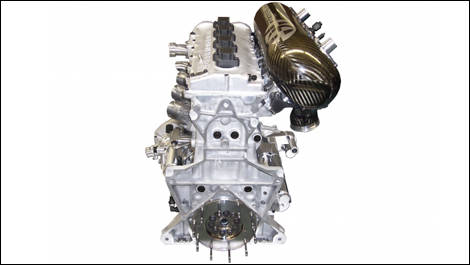 Photo: Andersen Promotions
The new car and engine combination will make its competition debut at the start of the 2015 Indy Lights season.
With an expected 6,000 miles (9,600km) between rebuilds, the AER-P07 Indy Lights engine is designed to run a full season without major maintenance. AER will provide trackside support as well as the necessary engine service and between-season rebuilds. The engines will be available for lease through Andersen Promotions.
In its Indy Lights version the AER-P07 will produce approximately 450 horsepower, with additional power available via a driver-controlled "push-to-pass" feature.