If you own a General Motors vehicle, you're probably familiar with OnStar. While it's a great idea to have emergency help and the option to make calls, many can hardly justify the $200-$300 yearly fee once the trial period is over. Well now, thanks to the guys at Costar Technologies, you have another option.
BlueSTAR 2010 is a unit that can replace the OnStar module in GM vehicles year 2002 and newer. Costing less than a one-year subscription to OnStar's Directions and Connections, this unit is easily paired with most Bluetooth enabled cellphones, allowing you to send and receive calls handsfree using the mirror controls (or steering wheel controls if your vehicle is equipped).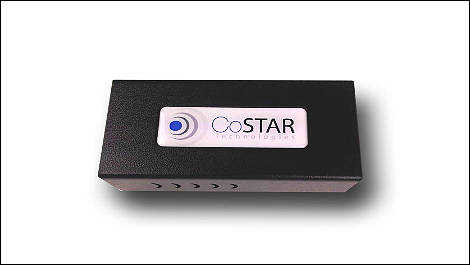 Photo: BlueSTAR 2010
This conversion kit is easily installed by replacing the OnStar module with the BlueSTAR 2010 unit. This process takes only a few minutes, though it depends somewhat on the model of vehicle and where the OnStar module is located. Generally, it can be found in the dash behind the radio, behind the glove box, under the backseat, or in the trunk. Detailed instructions and support are available on the BlueSTAR website.
By replacing OnStar for handsfree calling, you don't have to give up the services your cell phone provides. BlueSTAR supports call waiting, caller id, switching between calls, and rejecting incoming call-waiting. You can also use this device while your car is not running to save gas. BlueSTAR has a USB port, allowing you to connect the unit to your computer to customize the ringtone, change the sensitivity of the mic, and the volume of the speakers using the downloadable program available.
Audio streaming is also an option with a 3.5 mm Stereo Output, allowing you to stream your music over the Bluetooth connection using an aux input. Incoming calls mute the stereo and are directed to the speakers. The audio display will read either PHONE or the number of the incoming call. Simply answer the call as you normally would by pressing answering the call on your phone or by using the mirror or steering-wheel controls in your vehicle.
So, what makes BlueSTAR 2010 better than all the other Bluetooth options out there? Well, because it is conveniently taking the place of OnStar, it utilizes top-notch audio technology already installed in your vehicle. Background noise and static are eliminated because you are using the microphone already built into your vehicle instead of the mic on your phone. Your stereo will automatically be muted for you, allowing you to take the call without distractions. Plus Costar is continually coming out with software updates; you simply download updates onto your computer, connect your BlueSTAR, and it will automatically read the state of the unit and update it as needed.
With laws in place banning cellphone use while driving, Bluestar 2010 just might be the answer GM owners are looking for.
Source: BlueSTAR2010